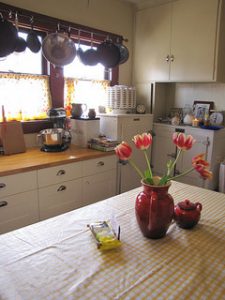 If you're thinking about making some style changes to your kitchen you may be considering replacing your cabinets. Before ripping out your current kitchen cabinets and getting into a complicated remodel project you may want to consider refacing, resurfacing, or refinishing your current cabinets. Refacing, resurfacing or refinishing are more economical alternatives to replacing them entirely, especially if you're already happy with the layout of your kitchen the way it is.
So what's the difference between refacing cabinets, resurfacing, and refinishing?
Resurfacing
Resurfacing kitchen cabinets is a process in which the existing cabinet framework is resurfaced with laminate or wood veneer replacement material.  You keep your existing cabinet boxes but replace all cabinet doors and drawer fronts with new ones. You can also replace cabinet side panels, face frames and moldings so that everything matches. This covers up all blemishes and finish problems on your cabinets and allows you to change the wood, color, or door style for a clean and updated look. When resurfacing your kitchen cabinets you can even choose to install new highly decorated hardware or crown molding.
Refacing
Refacing is a word that is interchangeable with the term resurfacing, especially when it comes to cabinet makers and professional remodelers. It simply means that the face, meaning the front or visible surfaces are getting a facelift. So in essence, they mean the same thing.
Refinishing
The difference to note is the difference between refacing cabinets and refinishing cabinets. Kitchen cabinet refinishing means that you keep all components of your existing cabinetry and simply change the color or the finish which is often completed via hand sanding or chemically stripping the existing finish from the wood, then applying new paint or stain.
Deciding
When deciding between kitchen cabinet refinishing or refacing cabinets there are a few things to keep in mind. If you're considering refinishing, if your cabinets are made of laminate or thermofoil, refinishing is not an option due to the fact that these materials can't be sanded or stripped and it's nearly impossible for paint to stick.
If you have wood cabinets you can refinish or reface. If you dislike your kitchen's layout or your cabinets' current style you may want to consider resurfacing kitchen cabinets. If budget is your main consideration, refinishing is often the cheaper option. Estimates have shown that refinishing cabinets costs about 2/3 the cost of refacing, and refacing costs about 70 to 80 percent the cost of installing replacement cabinets.