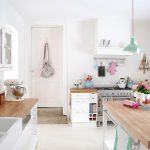 In our last blog post we gave you some effective ideas for a quick kitchen facelift. If you're in dire need of updated kitchen finishes but don't have the time, money, or patience for a full-on kitchen remodeling project, then here are a few more ideas for giving your kitchen an updated and chic look.
Updating the lighting in your kitchen is an excellent way to freshen up your kitchen without getting caught up in a kitchen remodeling project. While you may not realize it, the lighting in your kitchen can make a huge difference in how your kitchen looks and feels. You can easily change out old fluorescent lighting boxes and replace them with recessed lights. Or you can also choose to install pendants over islands or other key focal points in the room which will achieve a better-lit, better-looking space overall. You may also want to try under-cabinet lighting which can help to shed better and more attractive light on your work areas.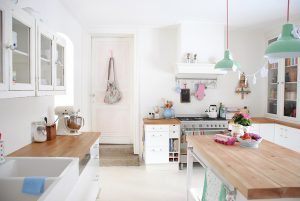 Flooring can also help to enhance the functionality of your kitchen and make it look great too. There is an array of materials to choose from including comfortable cork or durable porcelain. When choosing your new flooring, just make sure to consider how it will look with your kitchen's current finishes and if the material corresponds with your lifestyle.
As mentioned in our previous blog post, one of the most crucial elements of any kitchen is the kitchen cabinet doors. If you are happy with the current layout of your cabinets, but are looking to freshen them up or replace them, consider cabinet refinishing rather than a purchasing all new cabinets which can cost a fortune. For the highest quality cabinet refinishing or refacing, contact the experts at Summit Cabinet Coatings.
Also, when giving your kitchen a facelift, it's important to factor in the design elements found through your entire home. You want your updated kitchen to mesh well with the rest of your home, therefore consider the architecture, flooring, and built-ins located elsewhere throughout your home and choose finishes and materials that compliment these.
Giving your kitchen a fresh new look doesn't have to mean getting involved in a full-blown kitchen remodeling project. Instead, you can choose a few elements and give them a facelift by refinishing or refacing or paying attention to small elements that can make a big impact.
Yvonne Eijkenduijn via Compfight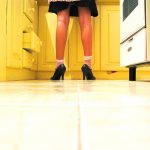 At the onset of a new year we often feel the need to reinvent ourselves. Whether it's through new fitness resolutions or a kitchen makeover, a new year can actually bring about a new you in an array of aspects. But if you're looking at the New Year as the perfect opportunity for a kitchen remodel then you're in luck.
According to a December blog post on nwi.com, there is a new book called "New Kitchen Ideas that Work" by Jamie Gold that includes some amazing examples of kitchen design trends and strategies. One of Gold's first strategies for homeowners considering a kitchen remodel is to decide if a full remodel is necessary or if a mere facelift will do. 
Oftentimes a kitchen does not need a full remodel and sometimes budgets don't allow for full remodels either. If your existing cabinets are structurally sound and you're happy with the current layout of your cabinets then you may want to consider resurfacing kitchen cabinets rather than purchasing all new cabinets, which can be quite an expenditure. While cabinet refacing and refinishing won't magically provide you with more storage space or transform your kitchen into something that it's not, it can improve the aesthetics of your kitchen and give it a beautiful new facelift.
If a cabinet facelift is what you're looking for then you may want to consider additional cosmetic improvements such as the addition of new storage accessories, decorative molding, or new hardware.
Another type of kitchen facelift can include replacing or resurfacing countertops on top of existing base cabinets. You can easily upgrade from laminate to natural or engineered stone which will breathe new life into a kitchen. However, keep in mind that replacing or resurfacing countertops can also involve getting new faucets, sink and drains as well. So if you're not interested in opening this can of worms you may prefer to stick to cabinet refacing.
If you'd like the look of new cabinets without purchasing all new cabinets call Summit Cabinet Coatings for cabinet refacing or refinishing. They can help you achieve the look you want without all the headaches of a traditional kitchen remodel.
Brittney Bush Bollay via Compfight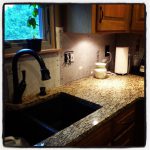 When it comes to creating a beautiful kitchen there are quite a few aspects and details to consider. In addition to making decisions about all the many surfaces in your kitchen it's also important to think about how these different surfaces will work with each other to create the overall look of your kitchen.
Making sure that your countertops and kitchen cabinet doors coordinate is essential when it comes to achieving a perfectly meshed look. Granite countertops are currently quite popular and one of the most requested types of countertops available. It is a natural material that is available in an endless array of colors, patterns, and textures and as a result can be a challenge to coordinate with cabinets.
Here are a few tips for coordinating your new granite countertops with your kitchen cabinet doors.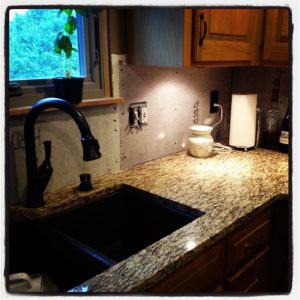 If you haven't already, choose your kitchen cabinet color. If you're refinishing kitchen cabinets or refacing cabinets that you already have, then you'll also need to choose how you'll be finishing your cabinets. By choosing your cabinet color or finish first, then choosing a coordinating type and color of granite will be much easier.
Do your research. There are many different types of granite that have varying hardness, texture, color, etc. Also keep in mind how much upkeep you're willing to put into your new counters as this can help you make your decision. Also consider your lifestyle when choosing your granite counters. If you have children and are prone to a messy kitchen, buy a granite counter that does not stain easily.
Create a kitchen color scheme. Granite colors are an important focal point of your kitchen so the color you choose can make a big difference. A light granite countertop can brighten up a dark kitchen and vice versa. If you like to change up the look of your kitchen on occasion, go for a granite counter that is neutral and may coordinate with an array of kitchen cabinet colors.
Go shopping. There's no better way to get a sense of the color and texture that you like than by browsing samples in a store.  If at all possible, take a cabinetry sample to compare to the granite at the store. Try to see if you can compare in sunlight and artificial light both.
By keeping these simple tips in mind you should be able to find a granite counter that coordinates beautifully with whatever type of cabinets that you have, creating the kitchen of your dreams.
David Reber via Compfight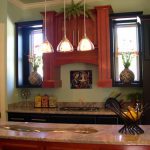 So you're about to undergo a kitchen remodel project, congratulations! The first step to any successful kitchen remodel is gathering inspirations and ideas so that you can achieve your dream kitchen. Because after all, the point of a kitchen remodel is the realization of a dream kitchen, is it not? Therefore spending endless hours collecting inspiring kitchen photos, while fun, does not ultimately translate into your new dream kitchen necessarily.
One of the toughest parts of a kitchen remodel is deciding what look you're going for and how you intend to get there. There are so many options out there that narrowing down your options can be a challenge. Here are some ideas for gathering inspiration and making decisions from Houzz.com when it comes to your brand new kitchen remodel.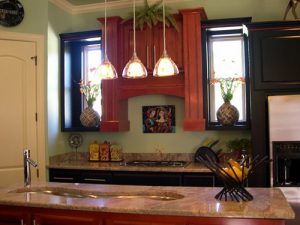 Collect images that speak to you emotionally without thinking about why. Oftentimes patterns emerge even if you didn't realize that you have a propensity toward one particular style. Don't skip over styles that speak to you even if they don't relate to your current project. Save those for later. At the beginning it's ok to gather images and clippings with reckless abandon, if you like a kitchen cabinet refacing option but aren't sure if that's for you, save it anyway. Don't edit yourself yet.
Don't worry if your images and clippings are gathered in an unorganized fashion. This is a time for creativity and by obsessing about order you can stifle your creative tendencies. There will be time to go back and create order out of your creative mess.
If you're interested in having some help along the way, consider hiring a design professional. Start looking for designers that create the designs that you're drawn to. A professional can help facilitate the entire remodel and can even help you decide on what you want.
Once you have a bunch of material and inspiration to work with go back through and put them into loose categories and also start considering why you like certain looks and why you don't like certain looks.
Take some time and then go back through your inspiration book to see if you still respond emotionally to your selections, if you do then it's a keeper.
Once again, go back through your saved images and search images for specific items. Find what you like best about each picture and edit down your saved images once again.
Once you've done this you should have a pretty good idea of what type of kitchen you'd like to create in your home. Happy inspiration gathering!
tambra via Compfight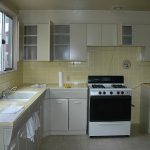 Those kitchen cabinets…every time you open your kitchen cabinet doors to retrieve anything, the only thing you notice is the chipping paint, the outdated veneer or even the squeaky hinges. Whatever has you singing the old kitchen cabinet blues, a kitchen remodeling project could be the answer to your prayers.
However, if you are considering a kitchen remodeling project, kitchen cabinets often eat up a large portion of your overall budget. In addition, there are often so many choices to make that this one decision can become overwhelming. You can easily get lost in a world of cabinet materials, colors, and designs. And while this can be often be an exciting turn of events, it can also present its own challenges.
When choosing new kitchen cabinet doors it's important to choose a style that won't become quickly outdated, that fits the already established style of your home, will maintain their appeal, and will even appeal to others if you're considering selling in a few years. 
Here are some ideas for choosing the best kitchen cabinet doors for you and your family.
1. Put together a budget and stick to it, you may even want to include a buffer for unexpected expenses. When totaling costs for your cabinets calculate the total cost as well as the labor if you don't plan on installing them yourself.
2. Measure your cabinet area to get an idea of how much cabinetry is needed. Measure the length of each stretch of cabinet, the height and the depth. You will need exact measurements before putting in any orders and calculating general cost.
3. Decide between stock and custom cabinetry. Stock cabinets come in standard sizes with no modifications possible while custom cabinets allow for modifications but are more expensive.
4. Identify your style. Keep in mind the style that you're going for as well as the style that you have already created throughout the rest of your home. You may want to browse magazines and websites to help give you ideas. Along these lines, you'll also need to decide between wood grain or painted cabinets. When it comes to wood cabinets you will then need to select the type of wood and color of stain. If you prefer painted cabinets, you will need to select the color of paint.
5. If you find cabinets that you like, inspect them for quality and durability if at all possible.
6. Consider cabinet refacing or refinishing kitchen cabinets. Both of these methods involve keeping your current cabinetry and merely refinishing them or refacing the doors and frames with a new veneer. This is an excellent way to achieve a new and fresh look without the cost of purchasing new cabinets. If you're interested in refacing or refinishing current cabinets, call Summit Cabinet Coatings today!
When undergoing a kitchen remodeling project there's often a lot to think about but start by focusing on the cabinets and the rest will fall into place.
Thom Watson via Compfight
Many homes, especially older homes have laminate cabinets throughout their kitchens. And while laminate kitchen cabinet doors often look nice and are quite durable, after a certain amount of time they can get scratched, dull or faded. However, when it comes to laminate cabinets, kitchen cabinet refinishing is often not an option. Laminate is made with plastic layers that are not easily painted. 
Therefore, oftentimes the only feasible solution is refacing cabinets by covering it with a new laminate or veneer. You can tackle this project yourself by purchasing a press veneer kit with removable wax-paper backing at your local hardware store or you can also choose to have professionals refinish and/or reface your cabinets, such as Summit Cabinet Coatings.
If you're looking to tackle this project on your own, here are some tips.
Remove cabinet doors by using a screwdriver to remove door hinges from the cabinets and set the doors, shelves and other parts aside.
Buff the laminated surfaces with either a small sander or with 100 grit sandpaper. This will remove the shine as well as any grime so that you can refinish the exterior.
Measure each section of the cabinet that you would like to veneer and then use these measurements on pieces of veneer. Then make sure to expand measurements by an inch on all sides.
Cut the pieces of veneer out from the back using your utility knife. Keep the wax paper intact on the cutouts.
Take your first piece of veneer and place it in the correct area. Peel off the top few inches of wax paper and press the veneer to the cabinet face.
Peel the remaining paper from underneath while simultaneously pressing the veneer to the surface, once the whole piece is secure, roll over it with a rolling pin to make sure that it is stuck in place evenly.
If there are any sections overhanging, cut it off with the utility knife.
Repeat this process for the remaining sections of your kitchen.  Once you're done, reinstall all door hinges and hardware.
For a quick and easy kitchen remodeling project, replacing old and tired laminate can bring new life to your kitchen and is quite easy and affordable whether you choose to DIY it yourself or hire experts.
Brittney Bush Bollay via Compfight
If you're considering remodeling your kitchen, one of the most important aspects to consider is the timeless appeal of your newly installed finishes. Whether you plan on living in your home for a long time or if you're remodeling for the purpose of selling, it's essential to think about how your new kitchen is going to look within the next few years. 
Despite the fact that you are absolutely in love with your new mauve cabinet color do you think you're still going to love it as much in a few years after looking at them every day. Or what if you plan to sell, most new homeowners aren't going to love mauve as much as you did five years ago.
Whether it's the color of the walls, your new kitchen cabinets, or the tile backsplash, here are some ideas for ensuring that your kitchen is a timeless beauty rather than caught in the past.
Lighting
When it comes to having a beautiful and timeless kitchen, lighting plays a very important role. Lighting creates ambience and can even make your kitchen creations look more appetizing as well. When choosing lighting for your kitchen, consider task lighting, ambient lighting and accent lighting. Locate your work areas and concentrate on the best kind of lighting for that area first and then move on to ambient and accent lighting. Good options for timeless and sophisticated kitchen lighting includes under cabinet, pendant lights and recessed lights.
Kitchen Cabinets
Natural woods like maple or cherry are classic and can work for just about any kitchen style. White and black are also timeless. If you're not happy with your current cabinets you may want to consider refinishing kitchen cabinets. This involves keeping your current cabinet frames and just changing the color or the finish of cabinet doors and drawers. Refacing cabinets is also an option. This is when you remove all exterior cabinet surfaces and cover them with a new type of veneer cover. Both of these options can provide beautiful and timeless results without the cost or time involved with getting all new cabinets.
Preparation Area
Cooks from any and all eras need one thing in their kitchen and that's usable kitchen space which includes counter space, areas for food preparation, deep sinks, storage and easy to clean surfaces. By paying attention to the layout and space available in your kitchen you can be sure that your kitchen will be well-received at any point in time in the future.
chotda via Compfight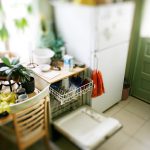 When it comes to a kitchen remodel, no matter how badly you crave a new kitchen and how prepared you think you are, it can oftentimes by a tough and rather disruptive process to endure. Here are some tips for not only living through, but thriving during a kitchen remodel.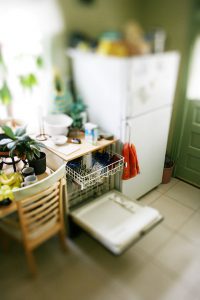 Preparation is Key
A kitchen remodel is always going to take longer and cost more than expected. By keeping this in mind, you'll be better prepared for surprises that come up along the way.
Stay Away
Try to stay away from the dirt and noise if at all possible. Seal off or tape plastic up between the kitchen and the rest of house. Also, try to acquire a portable toilet for workers so that they don't have to tromp through your home.
Temporary Kitchen
Set up a space or a room as a temporary kitchen by setting up your old refrigerator, microwave, coffeemaker, or even oven and old sink cabinet if possible, this way you can maintain a semblance of normalcy and not spend a fortune on takeout during the remodel.
Be Nice
Be nice and professional with all construction workers, designers or anybody else that is helping throughout the process. The niceness is contagious – however you treat them they will present back to you in terms of attitude and results.
Space
Make sure that you establish time frame boundaries with workers. For example, they can't come before 8 am or be at your home later than 6 pm. This will give you the time and space you need to take care of regular tasks and will give the space you need so that you don't go crazy.
Does any of this sound like fun?
If you're answer was a resounding no, then you may want to consider refinishing cabinets as opposed to a complete traditional kitchen remodel. This consists of using your current cabinet layout and placing a different finish on your current cabinets. It costs a portion of the money and will still create a new chic look for your kitchen. In addition, refinishing kitchen cabinets with Summit Cabinet Coatings only takes 5 days and you have the full use of your kitchen in the meantime.
Kitchen cabinet doors are major component when it comes to the aesthetic appeal of a home, so by taking care of this in half the time without the cost you could potentially spend more money on other aspects of your kitchen and create a kitchen that you love without all the headaches of a standard kitchen remodel.
Betsy via Compfight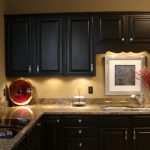 Summit Cabinet Coatings offers the highest quality kitchen cabinet makeovers in Northern Colorado with a refinishing process that is unlike any other. They take complete satisfaction in converting your worn out kitchen into a bright, fresh environment that you simply cannot wait to get home to.  At a fraction of the price of replacing all of your existing kitchen cabinets, Summit is able to produce a unique and bright look without the hassle or price tag of a traditional kitchen remodel.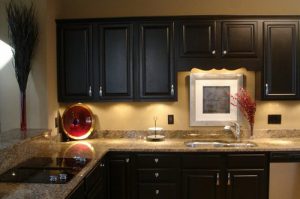 The Summit proven process and technique takes five days or less and they offer an array of finishes that are stain resistant and come in any color that you could possibly imagine. The new coatings are easy to clean, will protect your cabinets from any water damage, and will not crack, peel or fade. In addition, while the kitchen cabinet refinishing is taking place, kitchens remain clean and usable throughout the process. Only three days are spent in the actual kitchen, while all remaining time is spent off site in the shop. They are able to achieve a beautiful transformation with the convenience of being able to use your kitchen the entire time.
Here's how the process works:
All existing cabinet doors and drawers are removed from their frames and taken to the shop.
Kitchen cabinets and door fronts are washed, sanded, primed, repaired of cracks and blemishes, and any gaps are caulked.
Each piece receives 2-3 coats of a commercial grade acrylic coating which is applied in a contaminate-free spray booth.
After the final coat of acrylic or glaze is applied, another coat of clear, protective polyurethane is also applied.
During this process, three days are spent in the actual kitchen in order to coat the frames. This process involves washing, wet-sanding and taping off your kitchen then repairing, and caulking. Once the frames are ready, the primer, acrylic, and clear protective polyurethane coats are also applied to all frame surfaces including the inner and underside lips of the frames, toe-kicks, side panels, and crown molding.
Once all frame surfaces and cabinet drawers and fronts are complete, Summit reinstalls everything and also installs new knobs and pulls to complete the look.
Summit Cabinet Coatings has worked in an array of kitchen environments and always leaves behind a beautiful kitchen and a happy customer. When it comes to refinishing kitchen cabinets, Summit Cabinet Coatings is the real deal. Call them for a consultation today!
tambra via Compfight