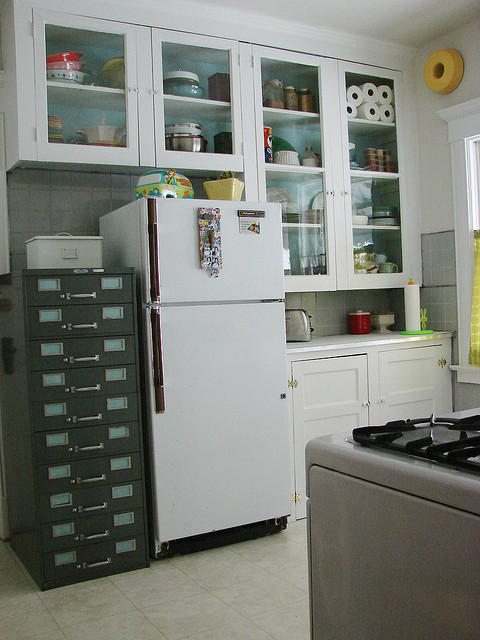 Your kitchen is the perfect place to express your design preferences and creativity. There are so many different aspects to a traditional kitchen and canvasses on which to leave your specific design imprint. However, with so many design decisions to make, oftentimes a simple kitchen remodel can become quite the complicated and overwhelming process. Especially if you're looking to create a kitchen that is an accurate reflection of you and your family.
Kitchen cabinets are one of the most important and most noticeable features in a kitchen. Therefore cabinets should be one of the first design elements to consider when undergoing a kitchen remodel. It's important to decide what look you're going for and what your budget is.  If you're looking to keep the costs down, refinishing your cabinets may be the way to go. With cabinet refinishing you can keep your current cabinets and cabinet layout and merely refinish the cabinet surfaces, offering a whole new look with a minimum investment.
So now you've decided that kitchen cabinet refinishing is what you're going to do. Now, it's time to decide on what type of finish you'd like to sport in your brand new kitchen. Here are some trendy design suggestions for your kitchen cabinet refinishing project.
Natural Finish Cabinet
This means that there are no toners, stains, or paints applied to your cabinet's wood exteriors. Instead, a simple top coat is applied in order to protect the wood. This means that any patterns in the wood grain will show through.
Stained Cabinets
There is an array of stains to choose from light to dark.  Staining involves uniform application to the cabinet surface and wiping off any excess until the desired saturation is achieved.
Painted Cabinets
Painted cabinets can be very attractive, especially if you're looking for a pop of color aside from traditional wood tones. The most common and trendy colors to paint cabinets is white and off-white.
Glaze Finished Cabinets
A glaze is a specialty cabinet finish. Glazes add color to the primary finish and highlight details such as routing, grooves and edges. A wet glaze mixes with the stain to alter its color and a dry glaze is a separate layer from the stain. Glazes can be applied in a variety of fashions offering different looks.
Crackle Finished Cabinets
A chemical can be applied to paint before it dries on the cabinets, which gives the cabinets an aged and worn appearance.
Distressed Cabinets
A very popular and trendy specialty kitchen cabinet refinishing technique, it involves adding imperfections to cabinet doors to give wood kitchen cabinets an aged, distressed, and rustic appearance.
When refinishing cabinets keep these techniques in mind and you'll be able to craft the perfect look for your kitchen.
Sarah Wozniak