2022's Top Kitchen Design Trends
Top Kitchen Trends
According to Market Business News, a trend is the general direction something is changing, developing, or veering toward. Because of the COVID-19 pandemic, many of us spend much more time in our homes than we did before. With so many homes playing double duty as office space, it's easy to fixate on things that need an update. In between meetings, you wonder what sort of improvements you can make. Outdated cabinets are often the first place people start when upgrading their kitchens. If you're wondering what's popular in America's kitchen design trends, we're here to walk you through some of the year's top design trends.
Many people update their kitchens every few years to keep the value of their homes up. This doesn't have to mean replacing your appliances and ripping out cabinets. Updating color schemes, knobs, and the like are often all it takes to keep your kitchen up to trend each year. You might want a new coat of paint—something with our "as strong as oven-baked enamel" finish that can take the wear and tear of a busy kitchen. You might even want an entirely new look, with an updated cabinet style. Whatever you're looking for, we have you covered. Here at Summit Cabinet Coatings, we know all about what's trending in kitchen aesthetics and upgrades.
Neutral with a Pop of Color
According to Christopher Peacock, owner of the global luxury cabinet retailer, in an article for Martha Stewart, explains this year's trending color scheme. "Whether it is custom cabinetry or designing a complete living space, neutral tones paired with strong colors, like deep greens, rich reds, and blues, will continue to be a go-to color scheme for most." Consider finishing the perimeter cabinets in a neutral color. Then, finish just the island in the statement color if refinishing all of your kitchen cabinets to a bold color feels overwhelming. This allows for the space to have visual interest without being too colorful.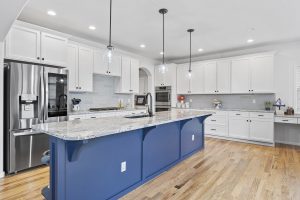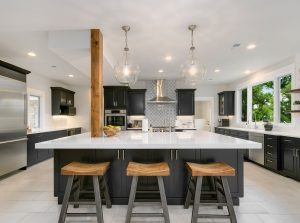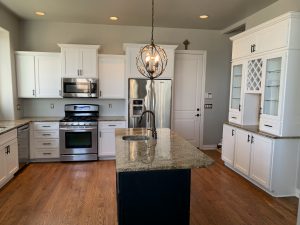 Bold Blacks & Dark Greens
Using black or darker green as an accent color gives a chic, modern look for your kitchen. This was something Summit Cabinet Coatings saw a lot of this year. Adding a black accent in your kitchen can work with almost any style. Proline Range Hoods states that "black and white kitchens are timeless and striking. Most designers have the bottom cabinets black, to ground the space, and the top cabinets white, to keep the space open and airy." Black can also look good on the island. 
Dark, earthy greens are also trending this year. According to Better Homes & Gardens, green is the must-have color trend everyone's buzzing about in 2022. Shades like deep emerald are particularly popular. Just like black, dark green can look great on bottom cabinets and islands, and can also look great as a backsplash.
Graphic Tiles
Another kitchen design trend for 2022 is adding geometric or intricate backsplashes. A more textured backsplash is a great way to bring visual interest to your kitchen. The visual texture created by tile patterns can be a great alternative to adding a pop of color if you're looking for visual variation but want to stick to a neutral color scheme.
Longer Kitchen Islands
Since 2020, many employees have transitioned from working in the office to working from home. According to Houzz, homeowners are using their island for work now more than ever. They write, "one in five homeowners say that a top activity at their island is work (20%), up four percentage points from 2021." Rather than undertaking the large project of a home office add-on, try adding a larger island to accommodate all of your workspace needs.
New Countertops
Can you guess the most common update homeowners complete in a kitchen? Countertops! For 2022, homeowners spent more on countertops this year than ever before. According to the same article by Houzz, "countertops were upgraded by more than nine in 10 homeowners (91%)." Quartz and granite are at the top of the splurge-worthy materials. Between the two, color and appearance options are numerous.
Our Kitchen Design Predictions for 2023
As 2023 approaches, so do new kitchen design trends! Here are some of Summit Cabinet Coatings predictions for 2023 kitchen design trends: 
Color — 2022 was the year for dark colors and contrast. 2023 looks like a year of soft, bright colors mixed with woods. Repainting with an inviting pink or a warm white and adding wood contrast is sure to make your kitchen a comfortable space. House Beautiful agrees, and adds the prediction of adding unexpected hues to cabinetry, which we would love to see!
Cabinets — Predicting cabinet design trends is always fun. We're hearing lots of talk about more creative and fun cabinet designs. Good Housekeeping predicts that cabinet color choices are going to be bold in 2023. They also predict cabinet designs with more interesting and unique finishes.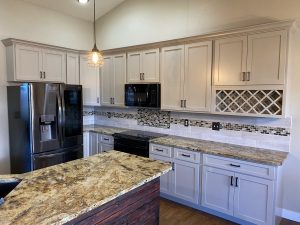 Refinishing Kitchen Cabinets 
The kitchen of your dreams begins with the kitchen you already have. If your dream is to have sleek cabinets and be more on par with what people are loving in 2022, all you might need to do is simply refinish your kitchen cabinets. 
With our non-intrusive kitchen cabinet refinishing method, we only spend three to four days in your home. We complete the rest of the process in our shop. This means you can return to normal life and enjoy your beautiful kitchen in just a short time! The total refinishing process takes three to five business days.
ON-SITE: During this beginning stage, we start in your kitchen coating the cabinet frames. We remove the existing cabinet doors and drawers from the frames and tape off the entire kitchen. After we tape off the kitchen, we do the fun stuff. We wash, hand-sand, prime, repair cracks and blemishes, caulk, and spray the finish on all exterior surfaces of the cabinet frames. 
OFF-SITE: We transfer the doors and drawer fronts to our shop where they undergo the same process. All the pieces receive multiple coats of our commercial-grade coatings applied in our contaminant-free spray booth. Once finished, we return to your home to reinstall these pieces. In this stage we can also update any knobs or handles you'd like replaced. 
If that doesn't get your kitchen cabinets as sleek as you want them, we have other options. We also offer completely new cabinet doors and drawer fronts for our clients who want to change styles or eliminate grain completely. This option combines the advantages of refinishing with the benefits of refacing, but at a much cheaper cost.
Get on Trend with Summit Cabinet Coatings 
Our approach to refinishing is durable, convenient, cost-effective, and produces the appearance of brand new cabinets. If you want that sleek, brand new feel, contact our team at Summit Cabinet Coatings to get started now: (970)-900-2079.