Cabinet Resurfacing:
---

---
If you love the style of your current cabinet doors and drawer fronts but need a color upgrade, resurfacing is the option for you. The resurfacing process works with your existing doors & drawer fronts and includes our oven-baked enamel strength finish.
Cabinet Refacing:
---

---
Our unique process of refacing is a fraction of the cost of conventional refacing and allows you to customize the look of your kitchen by picking new doors and drawer fronts while keeping the current cabinet boxes and frames and taking these through our resurfacing process. Our refacing services are top-quality, coming with our oven-baked enamel strength finish and 5-year warranty.
Solid Color Finish
Summit Cabinet Coatings' Solid Color Finish is sleek, modern, and clean. It is our most popular choice as it works nicely with a wide variety of home decor styles. It also pairs well with a complex countertop, backsplash and/or floor. Whether you're aiming for a sleek modern look or a classic traditional style, solid color finishes can be a great choice. It offers versatility and a wide range of options to suit your taste. This finish provides a nice neutral backdrop for you to decorate the rest of your kitchen however you please.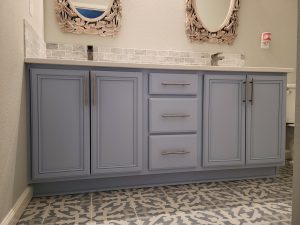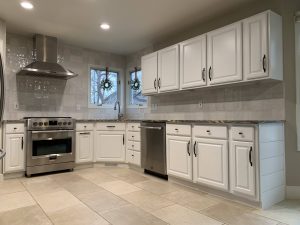 Why Choose our Solid Color Finish?
Solid color finishes have several advantages that make them a popular choice for cabinets.
Timeless Elegance and Versatility
Solid color finishes exude an enduring sense of elegance and sophistication. It provides a clean, uncluttered look that complements various kitchen styles. From contemporary to traditional, your kitchen will fit your style.
One of the standout features of Summit Cabinet Coatings' solid color finish is versatility. You can choose from a wide range of colors to match your kitchen's color scheme and your personal preferences. Whether you opt for a classic white, a bold navy blue, or a trendy matte black, the possibilities are nearly endless.
Easy Maintenance
Maintaining solid color finished cabinets is straightforward. They are easy to clean, and tend to resist stains and scratches better than some other finishes — especially with our oven-baked enamel finish.
Aesthetic Consistency
Solid color finishes provide a uniform appearance across all cabinet doors and drawers. Summit Cabinet Coatings' solid color finish ensures a cohesive and polished look in your kitchen. This consistency can be especially appealing if you want to create a minimalist or contemporary design.
⭐⭐⭐⭐⭐ Our experience with Summit Cabinet Coatings was exceptional. From the initial consultation to the finished product, we couldn't be more pleased. The work is quality, and the end result truly transformed our kitchen into a space that we love.
Amanda Lacey
⭐⭐⭐⭐⭐ People read many reviews before choosing a business to work with and I hope mine tips you over the edge. We had a great experience with Summit from the beginning through completion of out kitchen remodel project. I can't say enough about the professionalism, communication, attention to detail and overall quality of work. Gavin, Tracy, Jim(owner), Alex, Trevor and Max each deserve 5 stars for the part they played.
Sam Latona
⭐⭐⭐⭐⭐ We found the team from Summit Cabinet Coatings to be exceptionally professional and were delighted with the outcome of our kitchen transformation. Our original but dated oak cabinets were in a traditional dark wood with an aged finish but made of solid lasting quality. We now have a clean modern contemporary looking kitchen in a bright "Dove White" finish. The work involved was complex and detailed and was everything we hoped for. This all cost vastly less than a new kitchen remodel and design. We can recommend their services without hesitation.
Eric Prince
⭐⭐⭐⭐⭐ What an incredible and amazing transformation!! We are extremely happy with how our cabinets turned out and would highly recommend Summit cabinets! From the initial consultation to the final and finishing touches, everyone was so extremely professional. We had many different requests and Summit was able to meet and exceed every single one of our expectations! Their meticulous work and attention to detail far exceeded our expectations and we couldn't be more happy about the results! Thank you Summit for the beautiful transformation!!
Steffani Bender
⭐⭐⭐⭐⭐ We had the most amazing experience with Summit Cabinets! They communicated wonderfully about every step of the process. Everyone we dealt with at Summit was professional and respectful. They did a beautiful job on our kitchen and I highly recommend them!!
Shawn Shaefer