Professional Cabinet

Refacing Services
Our unique process of refacing is a fraction of the cost of conventional cabinet refacing services! This process also allows you to customize the look of your kitchen by picking new doors and drawer fronts while keeping the current cabinet boxes and frames. Both your new doors and drawer fronts and the frames of your cabinets are then finished using the same process, creating a seamless style that will look stunning in your kitchen. Refacing is a great option for people who want a completely new look for your cabinets. Traditional house paints will peel and crack, and it won't hold up to regular cleanings. Our cabinet refacing services include an extremely durable—and easy-to-clean—top coat that is as hard as oven-baked enamel once fully cured.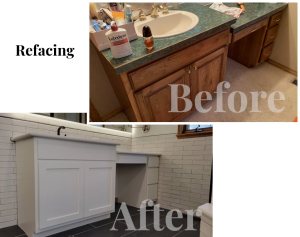 Refacing vs. Painting
---
Essentially, painting and resurfacing are the same thing. Our team just executes "painting" to a higher quality than anyone else (due to our refined process of stripping, sanding, finishing, and layering commercial-grade top coats). You will get the same quality results for your cabinets whether you resurface (paint) or reface them; both include our varnish that's as strong as oven-baked enamel. The biggest difference between the two is that refacing allows you to completely change your cabinet door fronts.
What's the difference between cabinet refacing and cabinet resurfacing?
---
We totally understand why folks are confused about this! We are asked this question all the time, and the answer is relatively straightforward. When you are refacing your cabinets, it is the closest thing to getting brand new cabinets. You get all-new cabinet fronts, handles, and fittings—this is a great option for very ornate doors and drawer fronts. Resurfacing is a bit different. This is where we take your existing drawers and cabinet doors and remove existing finishes by sanding them down. After extensive preparation, we spray multiple rounds of our mid coats and top coats. The final finish is as hard as oven-baked enamel. Cabinet resurfacing doesn't address wood that is warped or functionally broken, but it's great for giving your cabinets a freshened look. If you are looking for a brand-spanking-new look, refacing is the best option.
I still don't know what is best for me…
---
That is absolutely fine! Our experts are ready to talk you through the options in more detail and answer any questions you have. There's no need to stress about quality since we offer a 5-year warranty on our refacing services. We'll have some questions about your remodel, and whether or not you are getting new flooring, backsplashes, built-ins, and more. If it makes sense, we'd love to schedule a walk-through at your location so we can assemble a very detailed/accurate quote.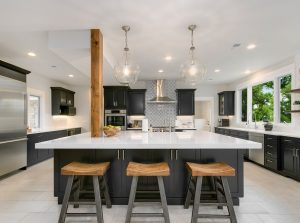 Resurfaced (Painted/Existing Doors and Drawer Fronts) Cabinets
---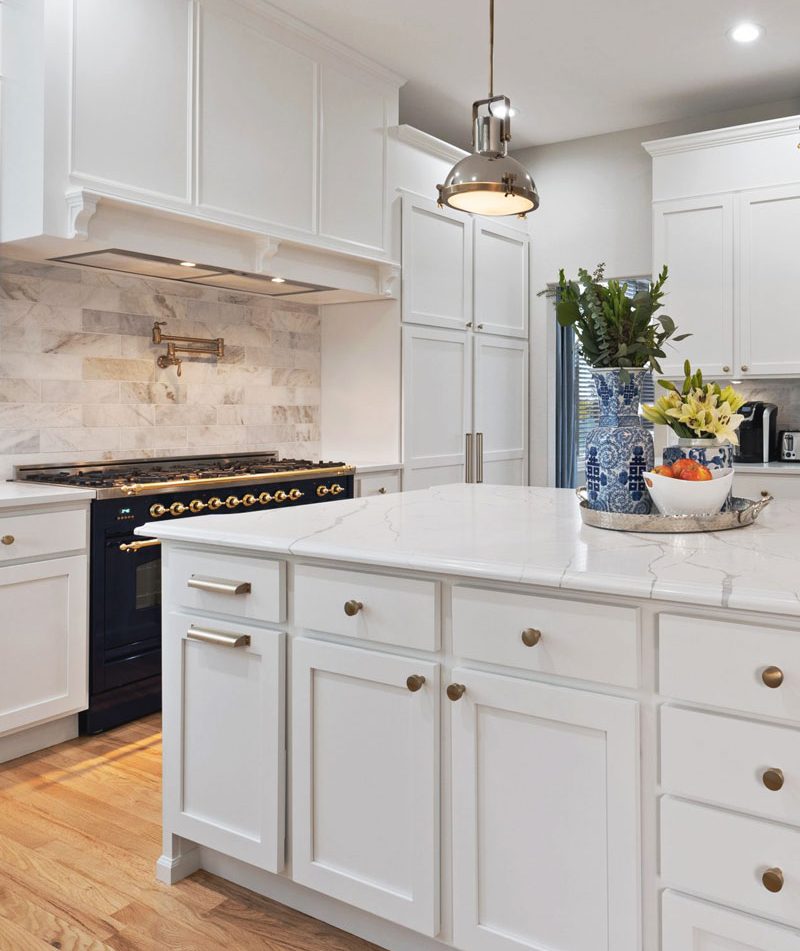 Completely Refaced (New Doors and Drawer Fronts) Cabinets
Get a Cabinet Refacing Quote
NOTE: Pinstripe and Rub-Through are accents only — they do not change the sheen or strength of the finish. The finishes we offer are all satin and equally strong.