A Checklist for Deep Cleaning Your Cabinets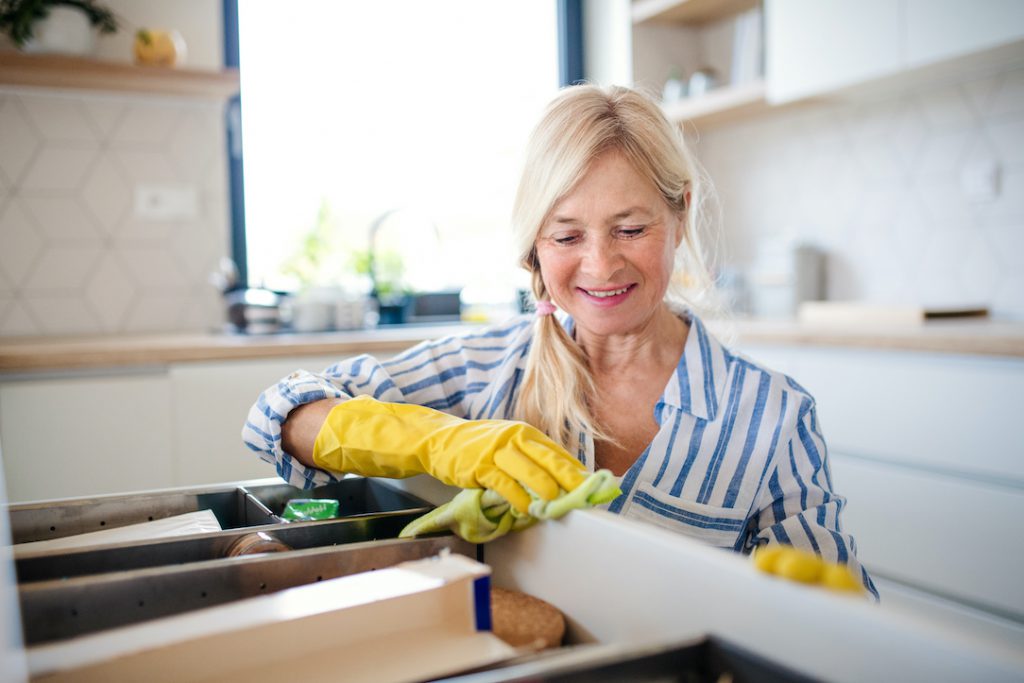 A Checklist for Deep Cleaning Your Cabinets
Keeping your cabinets clean and organized is important to the overall look and feel of your kitchen. To help expand the lifespan of your kitchen cabinets and keep them in good shape, we suggest a deep cleaning for your kitchen cabinets at least once a month. If you're not sure where to start or what to do, here's a deep cleaning checklist for you to follow along. 
Deep Cleaning Your Kitchen Cabinets 
You more than likely wipe down your countertops to help keep your kitchen clean each day, but when was the last time you cleaned your kitchen cabinets? Since the kitchen is one of the most used rooms in many homes, they can accumulate grime, grease, dirt, and more just as easily as your countertops do. Not only can you see the gunk build up overtime, but you could be harboring dangerous food-borne illnesses like salmonella. The Spruce explains, "bacteria like salmonella can easily contaminate cabinet handles and knobs. Grime and old food particles have no business building up inside the place we store the items we put our food on…" and we agree! While kitchen cabinets need a simple wipe down each day, they also need a good deep cleaning every once in a while. 
Your Cabinet Cleaning Checklist
If you're not sure of how often you should clean what, here's a handy list to keep around.
Everyday:
– To help bigger messes from developing overtime, try and wipe up spills and grease splashes each time you cook 
Each week: 
– Wipe down any spills or grime that might have been splashed onto the cabinets while cooking each day that week
– Wash off drawer fronts
– Sanitize knobs and cabinet handles
Each month:
– Give the interior of your cabinets a deep clean, start with vacuuming to remove larger bits of food or dirt, and then wipe down with soap and warm water
– Empty all dinnerware, appliances, and pantry items from the shelves and wipe down each shelf one by one
Every other month:
– Move appliances as you're able and wipe down the sides of the cabinets you can reach. You'll be surprised at how much food and dirt can accumulate on the sides of the cabinets that sit next to your stove and refrigerator.
The Best Cleaning Agents
You probably have different multipurpose cleaners on hand, or right now during COVID-19, heavy-duty cleaners like bleach, but do you know what's best to use on your kitchen cabinets? The wood on cabinets can be sensitive to harsh cleaners. If you have wood cabinets, the DIY Network recommends a 50/50 solution of vinegar and warm water put into a spray bottle. Once mixed, gently mist onto your cabinets and let sit for up to two minutes before wiping with a microfiber cloth. If you have lots of built up grime and grease, they suggest adding a few drops of liquid dishwashing detergent to help cut through the grease.
Cabinet Refinishing 
If your cabinets have undoubtedly seen better days, consider refinishing your kitchen cabinets with Summit Cabinet Coatings. Our refinishing process is budget-friendly and doesn't take longer than a week. Not only will it not break the bank, but you'll be able to continue using your kitchen the entire time. If you're still not convinced, here's the quick and easy process broken down into two easy steps:
On-site 
We will spend the first 2-3 days in your kitchen coating the cabinet frames. We begin by removing the cabinet doors and drawers and taping off your entire kitchen. After that's completed, we then wash, hand-sand, prime, repair blemishes, caulk, and spray the finish onto the exterior surfaces of the cabinet frames.
Off-site
Then, at our shop, we will put the doors and drawer fronts through the same stages of preparation to give them a durable, furniture-grade finish. Each piece will receive three coats of our commercial-grade acrylic coatings, applied in our contaminant-free spray booth. 
Once completed, we then return to your kitchen to reinstall the doors and drawer fronts, as well as any new knobs or handles that you wanted to replace.
Work with Summit Cabinet Coatings 
If your kitchen cabinets need more than just a good deep cleaning, consider refinishing your kitchen cabinets today. Family-owned and operated, Summit Cabinet Coatings is northern Colorado's premier choice for cabinet refinishing. Not only will you love that the project is complete in a timely manner and for a great value, but you'll love what an updated finish could do to transform your kitchen. Learn more about our company now, and don't hesitate to give us a call: (970)-282-9856.