Is it time for a new look in your home? Are you concerned about the costs of complete kitchen remodeling? Transform your kitchen at a fraction of the cost by simply refacing kitchen cabinets instead of tearing out the whole kitchen and starting over. You'll be amazed at the difference a new set of kitchen cabinet doors will make in your home.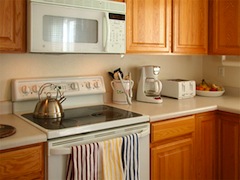 What is refacing?
Refacing kitchen cabinets involves removing all of the old drawer fronts and kitchen cabinet doors and replacing them with new cabinet fronts. If you're looking for a completely different style in your kitchen, or if your old cabinets show significant signs of wear, refacing will provide your kitchen with a facelift.
Refacing is especially effective with cabinets made of laminate or some other non-wood material, since these surfaces can't handle the stripping or staining that wooden cabinets absorb. Kitchen remodeling may end up introducing quite a few chemicals into your home; by choosing to reface your cabinets, you avoid the harsh chemicals used in refinishing kitchen cabinet doors.
Why reface?
Kitchen remodeling can be time-consuming, expensive, and messy. By choosing to reface your cabinets, you can cut back all of these problems.
With the assistance of professionals, refacing your kitchen cabinets may take as little as three to five days. A design expert will examine your home and help you choose the style that meets your preferences and needs. Once the remodeling team comes in, it's a simple matter of removing all of the old doors and drawer fronts and setting new ones in place. You'll be without the use of your kitchen for less than a week.
Removing and replacing cabinets costs a lot of money in supplies and labor. By reducing the length of time involved in remodeling your kitchen, you'll cut your labor bill significantly. You'll also save yourself the cost of a new set of cabinets, leaving your kitchen with a brand-new appearance at a fraction of the cost.
By choosing to reface instead of replace your cabinets, you'll also reduce the amount of mess in your home. You'll avoid filling the air with sawdust by keeping your original cabinets. Refacing is also an environmentally responsible decision, since you'll keep from throwing out hundreds of pounds of good wood. Refacing your kitchen cabinets gives you an amazing new look to the kitchen, while saving time, effort, and money. Call us today to find out more!