Bring New Life to Your Tired Kitchen: Refinishing Cabinets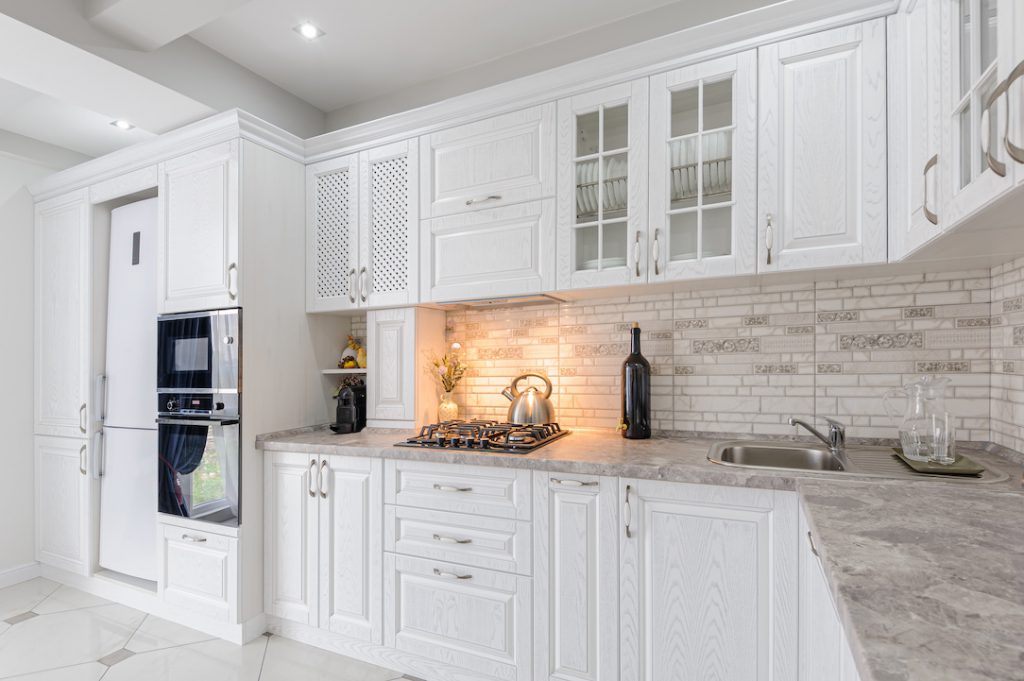 People spend a lot of time in their kitchens. It's where you meet each other in the morning for breakfast and where you enjoy a home cooked meal with your family at night. It's where you help your kids with their homework, but it's also where you entertain your guests. Your kitchen is probably the most used room in the house, so it's no surprise that at one point or another it will begin showing wear and tear. If your kitchen is looking a little tired, Summit Cabinet Coatings can help give your home a little TLC by refinishing your cabinets.
If you have just purchased a home that needs a little love, or if you've been in your house for a while and your kitchen needs a facelift, read on! Refinishing your cabinets and applying a new coat of paint on the walls may be all you need to bring new life to a tired kitchen.
What is Refinishing Cabinets?
Refinishing cabinets is when you remove the existing doors, sand or strip the old finish, and apply new paint or stain to the doors. HomeTips explains that this is different than cabinet refacing because that involves replacing the old cabinet doors with new ones. The cabinets are then fixed and painted to match the new facing. "If you want to go from stained wood to a darker stained wood or to a solid color, this could be the way to go," Angies List says. "However, you typically can't go from a solid color to a stain."
Is Refinishing Cabinets For You?
When you're ready to refresh your kitchen and are considering refinishing cabinets, examine your cabinets to make sure they're suitable for this option. When you want to refinish your cabinets, they need to be in good condition. This includes having the drawers, doors, and all other components of the cabinets.
Examining Cabinet Condition
Are you not sure what constitutes good condition? Read over these tips before you inspect your cabinets:
Look inside each cabinet for structural damage. This includes checking for cracks or loose joints. We also recommend poking around the inside of the cabinet with an object like a pocketknife to find any soft or sponge-like areas that could signal rotting or other damage.

Make sure the upper cabinets are still securely attached to the walls and one another.

Inspect lower cabinets near sink for water damage. If they are sagging, they could have water damage that doesn't make them a candidate for refinishing.

Look at the face frames if you have them. These must be attached securely to the cabinets and their edges need to be flat and smooth in texture. Flaws like holes and small cracks can be repaired by being filled with putty, but if they're split in two then they'll need to be replaced.

Make sure none of the cabinets are loose or cracked.

Drawers need to roll out and in smoothly when you open and close them. For this purpose, also remove drawers completely to check their condition. All should tight and strong and not cracked. Sides of the drawers should be firmly attached and not missing any fasteners or have worn out parts.
After Inspection
Once you have determined your cabinets are good candidates for refinishing, you can then call us at Summit Cabinet Coatings to take care of the rest. We will spend less than a week working on the cabinet and drawers at your house, but don't worry! You will still be able to use your kitchen during this time. We will tape off the entire kitchen and floors and protect any furniture around. Then, we'll mark the cabinets from their frames and mark where they go so they can properly be reinstalled. We'll remove everything and then wash, hand-sand, repair minor blemishes, prime, caulk, and then spray the new finish on the exteriors. There will be no harsh foul odor either!
From here, the rest of the process will be completed in our shop. The doors and drawer fronts will go through the same process mentioned above, and then all pieces will get three coats of acrylic topping. We'll then reinstall any new handles or knobs and then the process will be complete.
Bring Life to Your Tired Kitchen!
Winter can be dark and dreary, and we want to help you bring life back to your tired kitchen. We know the kitchen is the heart of the home, and we want it to help you give it a facelift. Summit Cabinet Coatings will walk you through every step of the way to help you get the cabinets of your dreams with those cabinets you already have in place. Contact us today to schedule a free consultation. We will make sure you love your kitchen's brand new look!