Cabinet Refinishing, A Job Best Left to the Professionals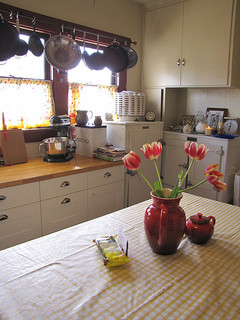 Home improvement TV shows are a growing trend, but they are unrealistic in many ways. They demonstrate kitchen cabinets being refinished by the Do It Yourself (DIY) homeowner in just a weekend. The truth is, there are no shortcuts to properly refinish the cabinets in your kitchen, especially if you want them to look good for years to come.
Some home improvement projects can be easily accomplished on your own. But, when it comes to refinishing your kitchen cabinets, eliminate the headache of a DIY kitchen remodel, and leave it to the professionals at Summit Cabinet Coatings. If you want a long-lasting finish on your cabinets that will endure years of cooking, water splash from washing dishes, and all the activity that take place in the kitchen, call Jim and Jen Worden to do the job for you!
DIY Can be a Disaster
Painted cabinets are a very popular and cost-effective way to update your kitchen. It seems like a no-brainer project, but undertaking this major DIY project actually has many potential pitfalls. The internet is replete with stories of unsuccessful attempts, where the DIY finished product has a surface that isn't smooth, and in pretty short order the paint begins to rub off.
The professionals at Summit Cabinet Coatings take several important steps prior to priming and painting, and they finish with a durable commercial furniture-grade acrylic coating. Now that is not something you cannot achieve as a do-it-yourselfer!
What to Expect When Your Cabinets are in the Process of Refinishing
They spend two to three days working on the cabinet and drawer boxes in your home. During the process, your kitchen will remain clean and usable throughout the week. They strive to maintain the highest respect for you and your home while working there.
They tape off the entire kitchen and floors, and also protect the surrounding furniture.

Next they mark the existing cabinet doors and drawers from the cabinet frames and mark where they go so they can properly reinstall them.

Once the cabinet drawers and doors are removed, they wash, hand-sand, repair cracks and blemishes, prime, caulk, then spray the finish onto all exterior surfaces of the cabinet frames and drawers. All paint is water-based and has low-VOC (Volatile Organic Compounds), which makes the work done inside your home less odorous.
The rest of the process is completed in their shop. This allows you to enjoy normal life at home while your kitchen is undergoing a major transformation.
At the shop, the cabinet doors and drawers go through several stages:
The doors and drawer fronts go through the same process as the boxes and frames in your kitchen; everything is washed, hand-sanded, cracks and blemishes are repaired, then they are primed, and caulked to ensure a durable, furniture-grade finish. 

All of the pieces then receive

three coats

of a commercial-grade acrylic coating, applied in their contaminant-free spray booth.

After the pieces are adequately cured, the cabinet doors and drawer fronts, as well as any new knobs/handles are reinstalled to complete the process.
Contact Jim and Jen online or call (970) 282-9856 to schedule a FREE consultation. Their showroom is located at 1833 East Harmony Rd. #6 in Fort Collins, which is convenient for clients in Loveland, Windsor, Greeley, Johnstown, Longmont, Timnath, Wellington, Severance and all along the Front Range.
When it comes to refinishing your cabinets, save yourself the time, money and frustration of trying to do this project on your own and leave it to the pros at Summit Cabinet Coatings! They will do a professional job that will last for years to come!