Our non-intrusive process allows little preparation work on your part, as the contents of the cabinet boxes can stay inside the cabinets.
In our two-part process, we remove your doors and drawer fronts to be worked on in our industrial spray booths at our spray facility while we work on your cabinet boxes and frames inside your home.
The onsite portion of the process only takes 3-4 days.
We begin by taping off every square inch of your kitchen, creating an environment to keep all debris from the home outside of the kitchen, and eliminating the potential for dust created in the spray process to get to the rest of your home.
Once we tape off every square inch of your kitchen we begin to take the cabinet frames through the exact same stages that we are taking your cabinet doors and drawer fronts through at our facility.
We start by cleaning your kitchen cabinets, removing any residue built up on the cabinets as well as extracting any grease that is deeply embedded in the cabinets.
Once we finish cleaning, then we work to address your specific wood type, removing any deep grain and pinholes if necessary. We finish our preparation process by sanding down the cabinets and spraying our first coating of a heavy-duty primer.
We then go through an extensive repair process, making sure your cabinets are in great condition before spraying our finishes.
We finish by spraying multiple coats of our durable topcoat that is as strong as oven-baked enamel.
Our finish—which is as strong as oven-baked enamel—makes your cabinets as beautiful and durable as brand new kitchen cabinets. We also offer a 5-year warranty so you stay happy with your new cabinet doors and drawer fronts.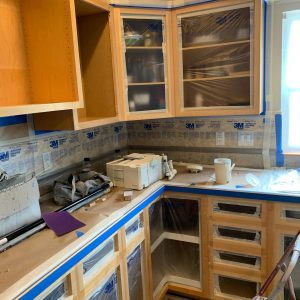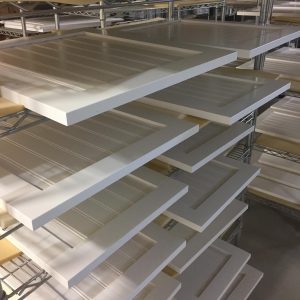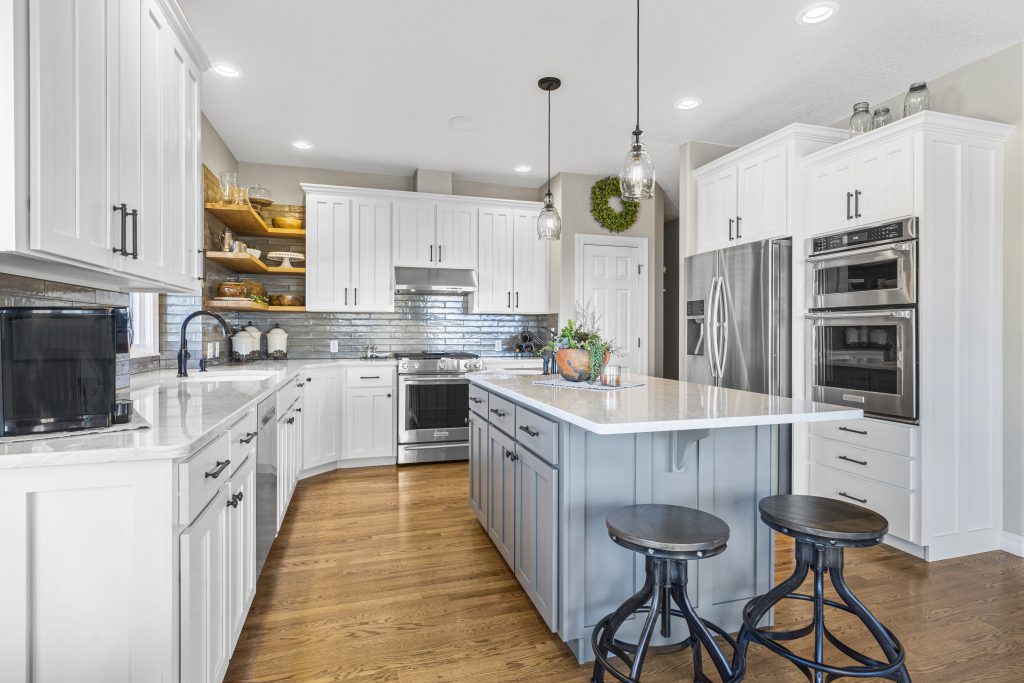 ⭐⭐⭐⭐⭐ Our experience with Summit Cabinet Coatings was exceptional. From the initial consultation to the finished product, we couldn't be more pleased. The work is quality, and the end result truly transformed our kitchen into a space that we love.
Amanda Lacey
⭐⭐⭐⭐⭐ People read many reviews before choosing a business to work with and I hope mine tips you over the edge. We had a great experience with Summit from the beginning through completion of out kitchen remodel project. I can't say enough about the professionalism, communication, attention to detail and overall quality of work. Gavin, Tracy, Jim(owner), Alex, Trevor and Max each deserve 5 stars for the part they played.
Sam Latona
⭐⭐⭐⭐⭐ We found the team from Summit Cabinet Coatings to be exceptionally professional and were delighted with the outcome of our kitchen transformation. Our original but dated oak cabinets were in a traditional dark wood with an aged finish but made of solid lasting quality. We now have a clean modern contemporary looking kitchen in a bright "Dove White" finish. The work involved was complex and detailed and was everything we hoped for. This all cost vastly less than a new kitchen remodel and design. We can recommend their services without hesitation.
Eric Prince
⭐⭐⭐⭐⭐ What an incredible and amazing transformation!! We are extremely happy with how our cabinets turned out and would highly recommend Summit cabinets! From the initial consultation to the final and finishing touches, everyone was so extremely professional. We had many different requests and Summit was able to meet and exceed every single one of our expectations! Their meticulous work and attention to detail far exceeded our expectations and we couldn't be more happy about the results! Thank you Summit for the beautiful transformation!!
Steffani Bender
⭐⭐⭐⭐⭐ We had the most amazing experience with Summit Cabinets! They communicated wonderfully about every step of the process. Everyone we dealt with at Summit was professional and respectful. They did a beautiful job on our kitchen and I highly recommend them!!
Shawn Shaefer