Different Ways to Update Your Kitchen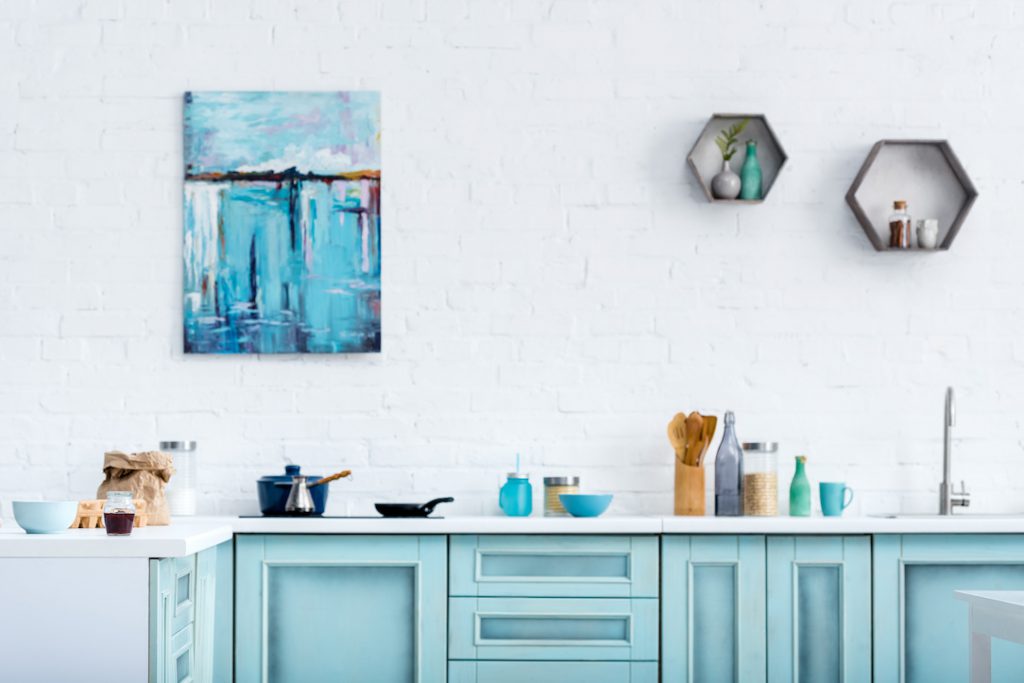 Whether you're looking to fully update your kitchen or just incorporate small changes, you have options. We can get tired of looking at the same old space, so if that's you too, keep reading! 
There is a lot you can do for your kitchen to freshen it up and bring it back to life. If you're tired of the same old kitchen, here are some different ways to give it a much-needed update.
Different Ways to Update Your Kitchen
Swap out your dinnerware
A fun way to spice up your kitchen is to change out your dinnerware. You can change it with the seasons, occasions, or for no reason at all. If you're wanting your kitchen to have a modern flare, try some sleek all-white plates. To change it up and have a mediterranean feel, look for dinnerware that has blue and yellow detail, like this set! You don't have to go out and purchase many different sets right away, some of our tips: mix and match sets, accumulate over time, and have fun with it! There's no right or wrong way to swap dinnerware.
Update your utensils 
Another quick way to freshen things up in your kitchen is to change out the silverware you use each day. Instead of traditional silverware, opt for different colors. You can find silverware in all kinds of colors, from matte-black to bright rainbow colors. Changing out your utensils every now and then, much like the dinnerware, keeps them from being overused and helps keep them usable for longer. Plus, you won't get bored looking at the same silverware each day! 
Hang things on the walls
Art has the ability to transform a space. From adding paintings with abstract art to adding framed photos of your family, you can instantly enhance a space. We also love incorporating mirrors into our kitchen space. Not only does it help feel a blank wall, but adding mirrors can also make a space feel brighter and larger. If you want to add more art on more than just the walls, try framing motivational quotes or phrases and putting them in frames on the counter. You can change these up with the seasons, like adding lyrics to a Christmas song in December or something patriotic for the 4th of July. There's no limit to what you can do! 
Add a rug
Rugs are another way you can add dimension and color to your dull kitchen. From runners to large area rugs, you can find a rug that best fits your space. Rugs also help provide cushion, so whether you're standing for long periods of time preparing a meal or doing the dishes, you can remain comfortable. Additionally, rugs can also help with noise pollution according to Forbes. If you have hardwood floors or tile in your kitchen, adding a rug can help absorb unwanted sound and improve acoustics in your space!
Increase lighting 
When you don't have enough lighting in your kitchen, it's easy for the space to become dark and dreary. Brighten up your space by adding more light sources, like more overhead lighting or lamps. Like we mentioned above, adding a mirror is another way to help light bounce and brighten up your space. More lighting can help you see recipes better or find things in your pantry and cabinets easier, which is a win/win. 
Refinish cabinets 
If you find that you've tried all of these tips and more but still don't have the kitchen you're dreaming of, try simply refinishing your kitchen cabinets with our team here at Summit Cabinet Coatings. Our refinishing process is simple, and we'll be out of your kitchen in under a week. Refinishing your cabinets is the best way to update your kitchen without completely tearing your cabinets out and adding new ones. You can choose any color and finish you want to truly make it a space you love. From brightening things up with a fun color, like teal cabinets, or modernizing with all-white, we can accommodate whatever you're looking for. 
Get a FREE Estimate Now
If you are ready to take the next step and refinish your cabinets, call us today for a FREE estimate. Our team here at Summit Cabinet Coatings will finish your cabinets in two easy steps:
1.ON-SITE
We'll be in your kitchen for the first couple of days. Beginning by taping everything off to protect your belongings, we then remove the cabinet doors and drawers. After that, we then coat your cabinet frames. We wash, hand-sand, prime, repair cracks and blemishes, caulk, and spray the finish on all of the exterior surfaces of your cabinet frames.
2.OFF-SITE
Next, we'll go to our shop with your doors and drawer fronts. They will go through the same stages as your cabinet frames. All of the pieces will then receive three coats of our commercial-grade acrylic coatings, all applied in our contaminate-free spray booth. Once completed, we head back to your home and reinstall the cabinet doors and drawer fronts, as well as any new knobs and handles you request. That's it! 
Call us now to get the kitchen of your dreams underway:  (970)-282-9856.