How to Make Your Kitchen Feel like Summer All Year Long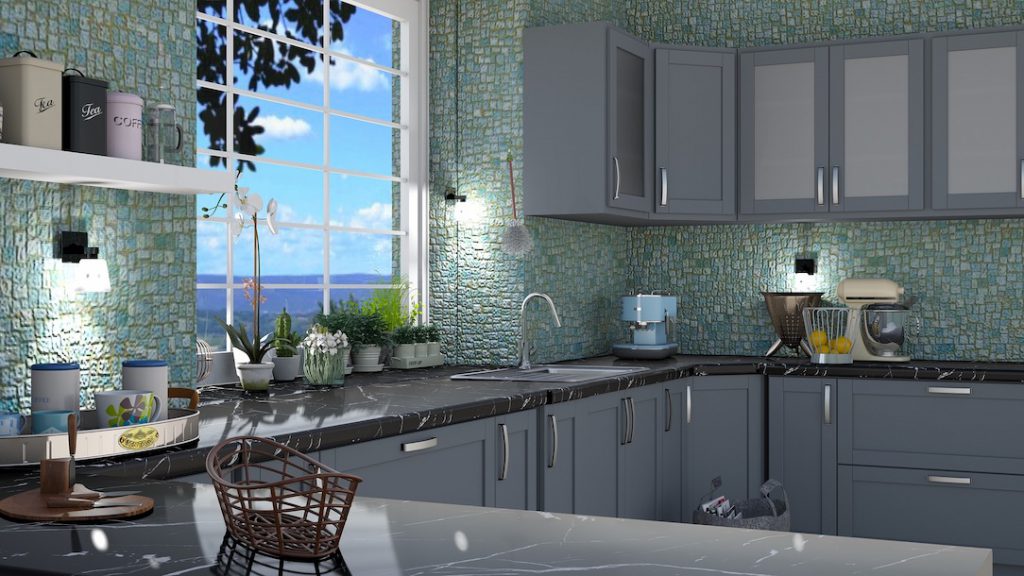 If you don't have a beach house but want to feel like you're at a water-side oasis everyday, a simple kitchen update could be all it takes. From cool toned walls and decor to villa vibes, here are all the ways you can achieve your dream kitchen with summer vibes all year round.
Summer Kitchen Ideas
Many people associate the idea of summer with the beach and the water. If you want to make your kitchen resemble those summer months all year long, consider turning it into your own little beach oasis. 
Switch up the backsplash 
If your backsplash is a little bland right now, you can instantly make it more summery by adding some color to it. Did you know you can update your backsplash without tearing it out too? Freshome.com suggests adding a coat of paint to your backsplash if you like the material but don't like the color. Adding blue colors to the backsplash or going with yellows and tans can be a simple way to feel like you're surrounded by water and sand. If rustic beach cabins are more your style, they also suggest incorporating wood to your backsplash. Check out more of their ideas to update your backsplash — you'll see how simple it can be!
Incorporate coastal colors
Use shades of blue to bring a pop of summer to your kitchen in a quick and easy way. You can make simple changes by painting your kitchen walls, or even refinishing your kitchen cabinets. Our budget-friendly refinishing process is an easy way to add those cool-toned colors to your kitchen cabinets. How? We do it in just two simple steps. 
ON-SITE: We'll be in your kitchen for the first couple of days. Beginning by taping everything off to protect your belongings, we then remove the cabinet doors and drawers. After that, we then coat your cabinet frames. We wash, hand-sand, prime, repair cracks and blemishes, caulk, and spray the finish on all of the exterior surfaces of your cabinet frames. You can have teal, navy, or whatever shade of cabinets you desire for your summer kitchen in less than a week! 
OFF-SITE: Next, we'll go to our shop with your doors and drawer fronts. They will go through the same stages as your cabinet frames. All of the pieces will then receive three coats of our commercial-grade acrylic coatings, all applied in our contaminate-free spray booth. Once completed, we head back to your home and reinstall the cabinet doors and drawer fronts, as well as any new knobs and handles you request. That's it!
Add coastal hardware
A fun way to instantly give your kitchen a beach update is to add coastal cabinet and drawer knobs. You can find pieces with mermaids, starfish, turtles, anchors, and more that can instantly leave a beach-effect on your kitchen every day of the year. If that's not your style, you can opt for plain hardware that is a solid color that will perfectly compliment your new cabinet color. If you want to find inspiration for your beach-y hardware, look at all of these options on Wayfair. 
More bright decor
If you're not ready to fully transition your kitchen into looking like it's located beachside, then consider adding bright colored decor. Again, for this theme, we suggest sticking to more cool-toned colors. You can add bright rugs, colorful flowers, or coastal artwork to easily begin the transition of updating your kitchen. If you want to take this a step further, brighten up your appliances too! You can find appliances of all colors too. An idea? Keep the cabinets and walls white and add colorful appliances – like a turquoise coffee pot or a teal toaster to instantly brighten your countertops up. 
Add greenery
By adding palm-leaved plants or other large green plants, you can make it seem like the sand is right outside your back door. Plants also have a lot of health benefits too! They can help reduce carbon dioxide levels and pollutants, purify the air, and just make breathing easier for you all the way around. Additionally, they've been known to boost moods too! If you aren't completely sold on the health benefits of adding plants in, click here. 
Feel the Heat with Summit Cabinet Coatings
If you want to commit to making your kitchen feel like a beach house all year long, contact our team here at Summit Cabinet Coatings. We can work with you to transform your kitchen cabinets into something you'll love – whether it's in July or December. Call today for a FREE estimate: (970)-282-9856.