How to Modernize Your Kitchen in 5 Easy Steps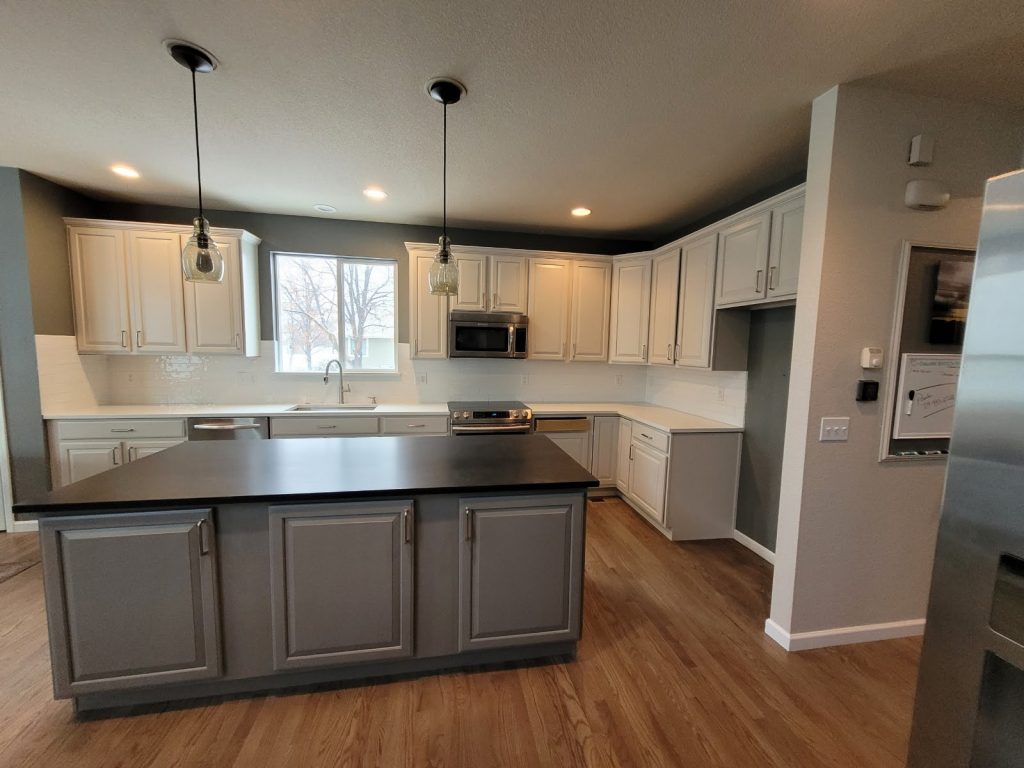 We all know time flies, and before you know it your once-updated kitchen quickly becomes an outdated room. However, there are easy ways to update and modernize your kitchen to get it back to a lively space that reflects what your style is like now. If your kitchen is feeling a little outdated, and you're craving something a little more modern, here are 5 easy ways to modernize your kitchen!  
5 Easy Ways to Modernize Your Kitchen 

1.Replace door and drawer knobs
This is a quick and cost effective way to give your kitchen a lift. If you think about it, the handles on our cabinets and drawers are some of the most-touched surfaces in our kitchen. Due to this, they can easily become dirty and dull. Additionally, if it's been a while since they were replaced, they might not have that sleek modern feel that you're looking for. If you're interested in modern handles, check out these options on Wayfair. 
2.Increase lighting 
Adding light instantly makes your kitchen look bigger and brighter. Not only that, but it's also important for safety reasons to have bright lighting in your kitchen. Lighting is important for every aspect of kitchen use, whether you want it bright for entertaining, dim for ambience, or more, there's plenty of lighting options for you. Family Handyman has several tips for better kitchen lighting, including:
Add depth with accents, like using rope lights above cabinets 

Adding wall sconces to highlight special pieces in your kitchen, like artwork

Use track lighting to prevent shadows 

Glam up with centerpieces, like using a classic chandelier over the center of your kitchen island

Add lighting under your shelves 
3.Add decor
Adding artwork can instantly make your kitchen feel updated. Additionally, artwork and decor can also help change up the color scheme in your kitchen. Change out your curtains to a different color, update kitchen rugs, add vases with flowers, and more. The options for decor in your kitchen are endless and temporary. Get creative! 
4.Update appliances
If you use your appliances a lot, it's no wonder they can become worn and look like they need a little update. Updating your kitchen appliances is also a good way to make your kitchen look more sleek and modern. If you want to keep a tight budget, you don't have to update your big appliances to make things look modern. Try updating smaller appliances like your coffee pot or toaster to start and go from there. Smaller updates overtime can still accomplish the same goal, and you won't break the bank! 
5.Refinish your cabinets 
Sometimes all it takes to make it feel like you're in a brand new kitchen is to simply update the finish on your kitchen cabinets. Our team here at Summit Cabinet Coatings can do this in under a week's time. The best part? With our extremely detailed refinishing process, your cabinets will look, feel, and operate like brand new ones. We will only spend three to four days in the home and the rest of the process is done off-site in our shop. This means you can enjoy your normal routines all the while your kitchen is being revamped. 
Our process is done in two stages, and only takes 3-5 business days! 
STAGE 1: On-site
We will only be in your kitchen for 3-4 days while we coat your cabinet frames. We start by taking off the cabinet doors and drawer fronts and taping off your entire kitchen. Then, we wash, hand-sand, prime, repair cracks and blemishes, caulk, and spray the finish on all the exterior surfaces of the cabinet frames. 
STAGE 2: Off-site
During this step, we will take the doors and drawer fronts to our shop and put them through the same stages of preparation. In the end, they will receive three coats of our commercial-grade conversion varnish to ensure a durable, furniture-grade finish. Once done, we reinstall in your kitchen and add any updated handles (that you might have decided on in tip #1) to your cabinets and drawers.  
Work with Summit Cabinet Coatings
You can easily modernize your kitchen with these tips and our team at Summit Cabinet Coatings. We maintain the highest respect for you and your home and will use great caution while working inside it. Our techs then tape off and cover your floors, walls, cabinet interiors, counters and sink, and the surrounding furniture. Summit Cabinet Coatings also offers new cabinet doors and drawers for our clients who would like to change door styles and/or eliminate grain altogether. This option combines the advantages of cabinet resurfacing with the benefits of cabinet refacing — at a fraction of the cost! Call us today to learn more about how you can update your home with our help: (970)-282-9856.