How Your Cabinet Finishes Can Match Specific Styles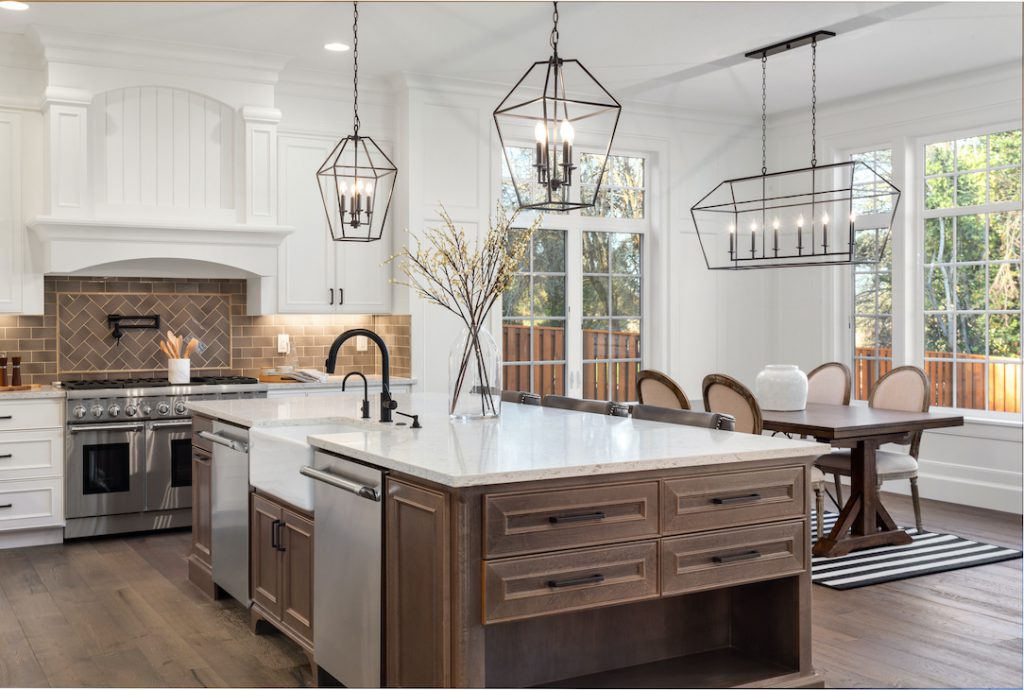 Do you sit in your kitchen at breakfast and dream of eating a croissant in a French-style kitchen? Are you sitting in your kitchen at dinner eating pasta in a Tuscan village? Sometimes we wish our kitchen could transport us into a different place – and refinishing your kitchen cabinets could be what helps you do that. Learn how you can match specific styles by refinishing.
If you have a specific kitchen style you're dreaming of, we can make it happen with cabinet refinishing. From Mediterranean-style to a cottage kitchen, sometimes all that's needed is to refinish your kitchen cabinets to get your kitchen to fit the style you like. Here are some trending kitchen styles that you can draw inspiration from.
If you want…
A Tuscan Kitchen
For a Tuscan-style kitchen, you'll want warm, sunny tones to transport you to Tuscany. HGTV describes this style as rich and earthy, with palettes that pay tribute to the land and sky. When refinishing your kitchen cabinets, think about using a yellow-based color. To incorporate a Tuscan theme the colors need to be creamy and gold-like in tone. However, some people choose to use some maroon-based colors. Think burgundy, gold, and other warm tones to bring your kitchen to life in a Tuscan way. 
A Modern Kitchen 
If you're looking for a sleek and modern design, try this kitchen style. Contemporary styles incorporate a pop of color with whimsical details, according to Good Housekeeping. A modern kitchen can be all white with a bright blue accent wall or a black kitchen with bright white cabinets. You can put whatever twist on a modern kitchen you want! Using websites like Pinterest can help you get inspiration to create your own dream kitchen. 
A French Kitchen
If you're dreaming of a kitchen that makes you feel like you're in France, try incorporating rustic colors and accents. Off-white cabinets go great in a French-inspired kitchen. Along with wood floors and statement light pieces, you can have that French-themed kitchen you're dreaming of sooner rather than later. 
Refinishing Cabinets
To get a kitchen with the design you want, sometimes all it might take is refinishing your kitchen cabinets. Refinishing cabinets is a simple, cost-effective process that can get you the kitchen of your dreams at a fraction of the cost. You have the ability to make your cabinets any color you want with cabinet refinishing. 
The Process
Refinishing your cabinets is a simple process that doesn't take any longer than a week. Here's the process that takes place in two steps:
ON-SITE

: During the first phase, Summit Cabinet Coatings will spend two to three days in your kitchen coating your cabinet frames. We begin by removing the existing cabinet doors and drawers from the cabinet frames and taping off the rest of your kitchen. Then, we will wash, hand-sand, prime, repair blemishes, caulk, and spray the finish on the exterior surfaces of your cabinet frames. 

OFF-SITE

: The second phase happens out of your kitchen at our shop. Here we take the doors and drawer fronts through the same stages of preparation to make sure they get a strong and furniture-grade finish. To end, they'll receive three coats of commercial-grade acrylic coatings, all applied in our contaminant-free spray booth. Once everything is completed, we head back to your kitchen one last time to install the doors and drawers, along with any knobs and handles needed to end the process. 
The benefits to refinishing include cheaper cost, but it also doesn't kick you out of your kitchen. Your kitchen will still be usable, and you won't have to worry about how you're going to cook for your family like you would when completely starting over with new cabinets.
If you're not happy with your cabinet doors and drawers, we offer new ones to help change up your door styles and/or eliminate grain entirely. This is another way we can help you get the kitchen style you want. This allows the cost advantage of refinishing cabinets with the benefits of refacing them, but without the higher cost. 
Refinish Your Kitchen Cabinets Now
Whether you're a homeowner or a fixer-upper, consider refinishing your kitchen cabinets with Summit Cabinet Coatings. Our approach to updating cabinetry is a great, cost-effective way to give your kitchen a new look and feel. In addition, the finishes we provide are durable, beautiful, and will stand the test of time. The process is also the least intrusive out of all the options for reviving your kitchen. 
We're northern Colorado's premier choice for modernizing and updating your kitchen cabinets. With an affordable, durable, and convenient alternative to replacing or refacing, call us today: (970)-282-9856.