Our Kitchen Remodel Theory
We specialize in creating the kitchen remodel of your dreams out of the one you already have using solid opaque and accented glaze finishes over your existing kitchen cabinets. Whether you imagine warm tones of a Tuscan villa or sleek and subtle modern styles, our kitchen remodeling process and techniques enable us to transform your cabinets into the look that you desire.
Your New Kitchen Cabinets
Your new finish will be as smooth as satin and as durable as oven-baked enamel. Meticulous care is taken with your cabinet doors, drawers, and frames during every step of the kitchen remodel; every new finish is inspected by our detail-oriented and experienced artisan to ensure your freshly resurfaced cabinets meet the highest standards.
Our resurfacing process allows you to use your kitchen during the five business days that it requires to transform your cabinets. You can leave everything in your kitchen cabinets, and we only spend 2-3 days in your kitchen remodeling and refinishing the frames. (We can pretend it is more disruptive if you need an excuse to dine out.)
The typical cost to refinish your cabinets using this method is 10-20% of the cost to replace and 20-30% of the cost to reface. Call us today to schedule a no cost kitchen remodel consultation!
"Jim and Jen are the best! Their work is excellent, their work ethic is excellent and they do a great job. I am very happy with the outcome."
-Jeanette Meyer, REMAX Alliance
Our Finishes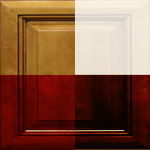 Our Finishes are unique to Summit Cabinet Coatings. Click here to see what modern look we can add to your kitchen.

Our Story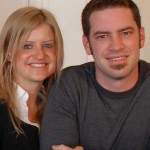 Locally based, Jim and Jen Worden interact with customers directly and oversee every step of the process. Together they offer over 13 years of experience.