Longmont Cabinet Painting Services
We are experts when it comes to Longmont cabinet painting & refinishing.
---
Our Northern Colorado team is ready to help you with your kitchen remodeling project. We specialize in refinishing cabinets to beautiful, factory-quality, paint-grade finishes. We are proud to be quick and efficient, but never sacrifice quality. Our job is to provide you with the best return on investment and the kitchen of your dreams. We promise satisfaction with your new remodel.
We've offered Boulder and Longmont cabinet painting services for over ten years. Our refinishing services—otherwise known as resurfacing—are unique. We don't just repaint your cabinets. The transformation begins with upgrading your existing doors, drawer fronts, and cabinet frames. We use beautiful, commercial-grade paint finishes and top-coats. Our impeccable process will make your cabinets look so good, you'll swear they're brand new. Our refinishing service also includes a long-lasting topcoat for extra durability—the end result is stronger than oven-baked enamel. Keep your cabinet doors and drawer fronts looking nice for years to come!
What does cabinet resurfacing mean?
Before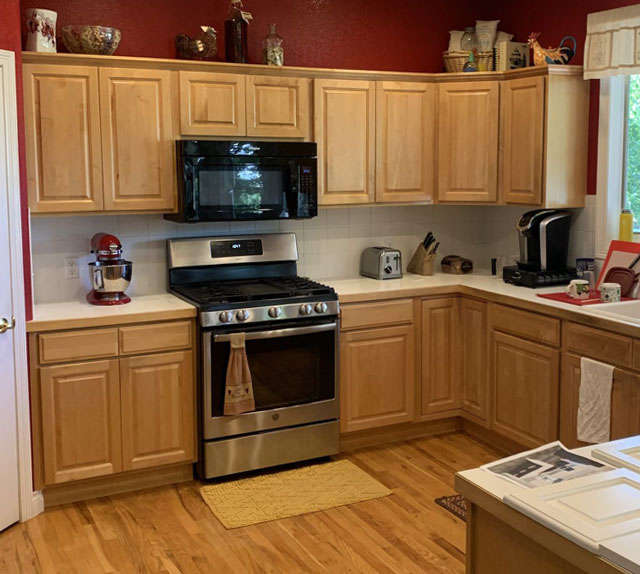 After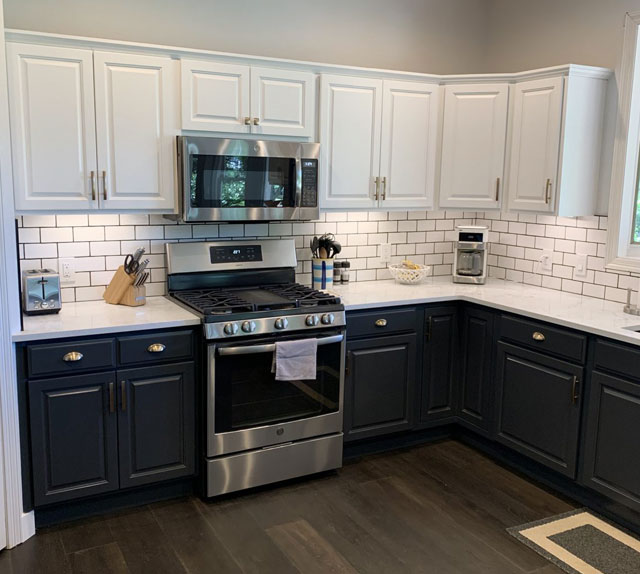 In essence, refinishing or resurfacing, is a high-quality repaint of your cabinet doors and drawer fronts. That's the simple definition, but it's not a weekend DIY project and we don't just paint over your cabinets. We refinish your cabinets with our professional, refined process. There's another benefit too! Because we use your existing cabinet doors and drawers, you'll save time and money.
Once you decide that resurfacing is the next step in your remodel, we schedule an appointment. The process begins with us coming to your home or business. We remove your cabinet doors and drawer fronts and transport them to our facility. In our workshop, we take your materials through a meticulous and extensive refinishing process. The process involves sanding your cabinet doors and drawer fronts so they're smooth to the touch (along with removing any dust and material from your cabinets). This step is the most important as it establishes the foundation for the rest. Next, we paint them to your specifications. Classic white? Say no more. Feel daring and want black? As you wish. 1970s mustard yellow? We can dig it. This is your dream, we're making it a reality.
After the multiple layers of paint are dry, our experts apply the highest quality, commercial-grade clear satin top coat. You can practically see your face in it! This step is essential and what makes our process the best in Longmont and Boulder. The top coat ensures your cabinet door and drawer fronts have a finish as strong as oven-baked enamel. Keep the cabinet door and drawer fronts you love, but enjoy a fresh, new look!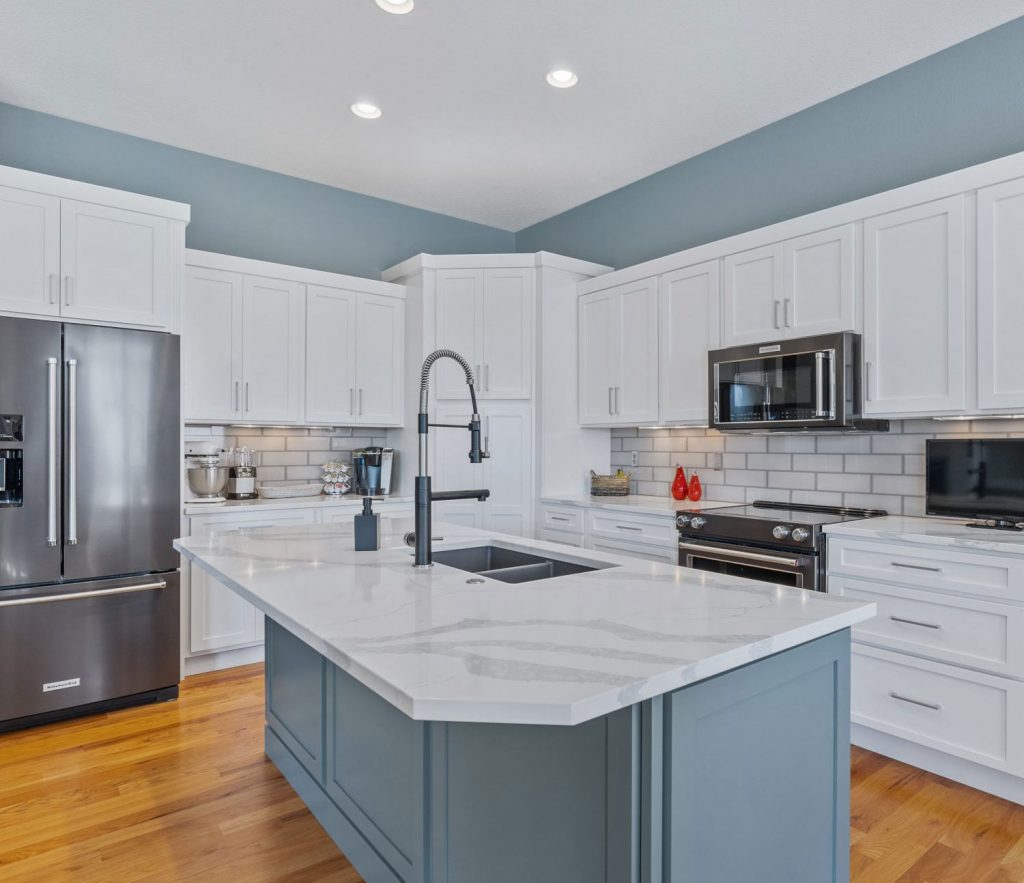 How to know if resurfacing is right for your remodeling project
---
New paint can undoubtedly improve a kitchen, but sometimes you need an entire different style. Along with Longmont and Boulder cabinet resurfacing and refinishing, Summit Cabinet Coatings also offers total cabinet refacing services. This is where you get to choose brand new cabinet doors, door styles, hardware, colors, and more. This service is great for folks who have damaged doors and drawer fronts that are warped or cracked. With our full cabinet refacing services, you can switch from old-school 80s moulding to modern shaker-style cabinets in no time!
The big difference between our resurfacing and refacing services is style and cost. When you refinish your cabinet doors and drawer fronts, you get a new, high-quality paint upgrade. Not to mention, better durability and improved longevity. Cabinet refinishing won't, however, restore warped wood or broken hardware. For those cases, we often recommend cabinet refacing as the better solution. Cabinet refacing is the closest thing to achieving a brand-new look and feel. You get all-new cabinet fronts, handles, and fittings. This is a great option for very ornate doors and drawer fronts as well. While considering the two options, think about the look you hope to achieve with your remodel.
Our procedure for refacing is similar to our refinishing process. We take your cabinet doors and drawer fronts to and from our workshop. We strip, sand, prime, and finish them the same way. We also apply the same commercial-grade top coat. In most simple terms, refacing allows you to change the style of your cabinets doors and drawer fronts; refinishing changes the color. If you want to keep your shaker-style kitchen but fancy a new color or a refresh, refinishing is your best choice. If you want a completely new look, consider a full kitchen cabinet refacing project.

The Summit Cabinet Coatings Team
Customer service and beautiful results are what drive us.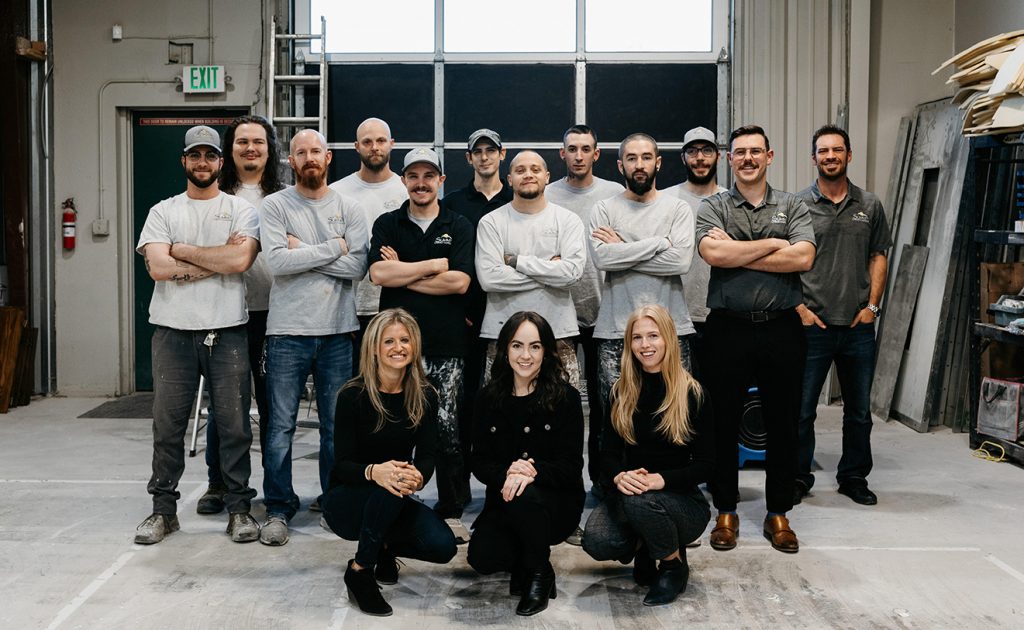 Ready to start? Here's what to do.
If you're still not sure which option is best for your kitchen, our experts are here to help. We can weigh the options together and assess the needs of your remodel. We're happy to answer any questions you might have about cabinet refinishing and refacing. We can even schedule a walk-through at your location if needed. You can rest assured we'll do what we can to provide an accurate and detailed quote. We also understand these decisions take time so our quotes are valid for 30 days.
If you move forward with us, we are so grateful to have your trust. We can't wait to get started on your Longmont cabinet refinishing project. We want to make the process as simple and stress-free as possible. Check out our project planning process for a more detailed breakdown of the project. We want to provide you with the kitchen of your dreams—all without you having to lift a finger.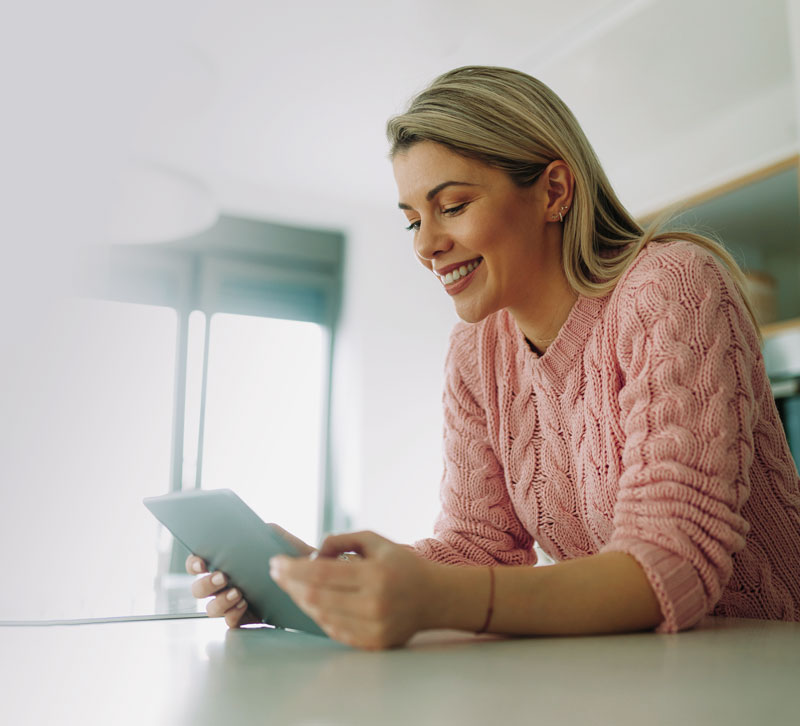 Let's get started on your kitchen remodel! If you have any additional questions, don't hesitate to contact us.
"My experience with Summit Cabinet Coatings has resulted in my best customer service experience to date during this pandemic. They have also delivered a superior product and demonstrated why they have such an excellent reputation. I am delighted with the fresh new look in my kitchen. Definitely a 5-star company! I wish them continued success."

-Kathleen A. Google Review