Loveland
Cabinet Painting Services
Our process for cabinet resurfacing leads to durable, long-lasting finishes.
---
Are you looking for a Loveland cabinet painting company? Look no further than Summit Cabinet Coatings. Our refined process will give you smooth finishes and bright textures that don't chip, along with updated hardware that will help to freshen up any room.
Fill out the form for a free estimate, or continue reading to learn more about our cabinet painting services
Loveland Cabinet Painting:
Before & After
In this kitchen, our cabinet resurfacing services were a perfect fit. This modern kitchen had cabinet doors and drawer fronts that were in really good condition. All we had to do was remove the doors and drawer fronts, bring them to our facility, and start stripping them down. Once we achieved a perfectly flat surface, we used our high-end sprayers to lay down multiple coats of commercial-grade paint, followed by multiple clear coats for protection. These color upgrades were a perfect match for the kitchen's new textures, flooring, and backsplashes. The new hardware added a finishing touch to the modernization aspect of this home improvement.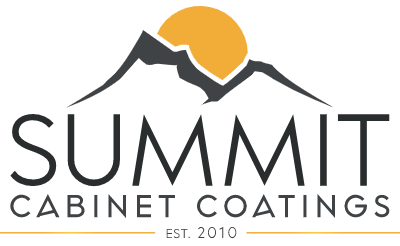 Before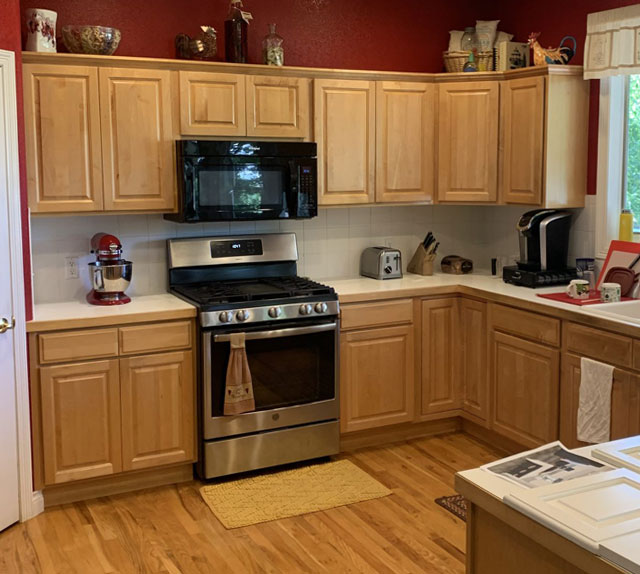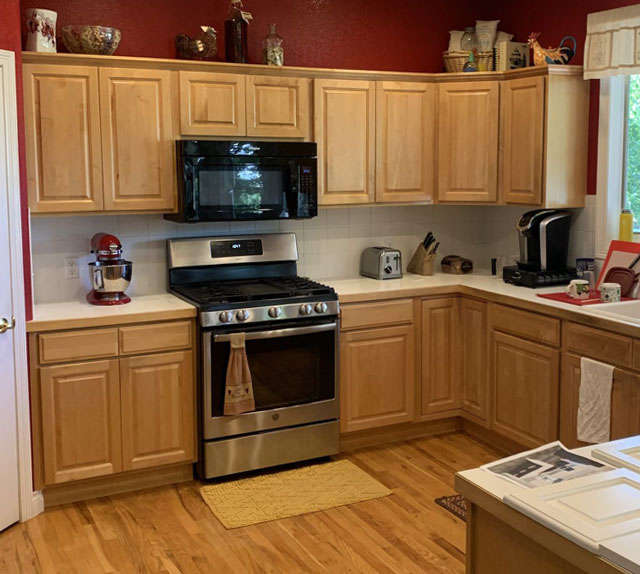 After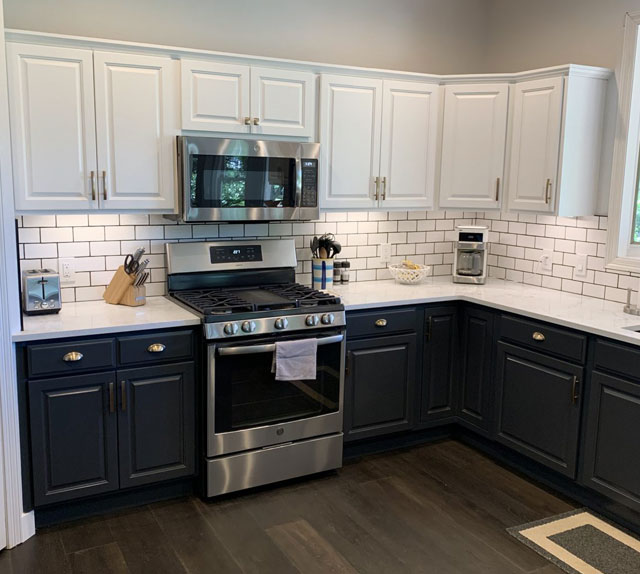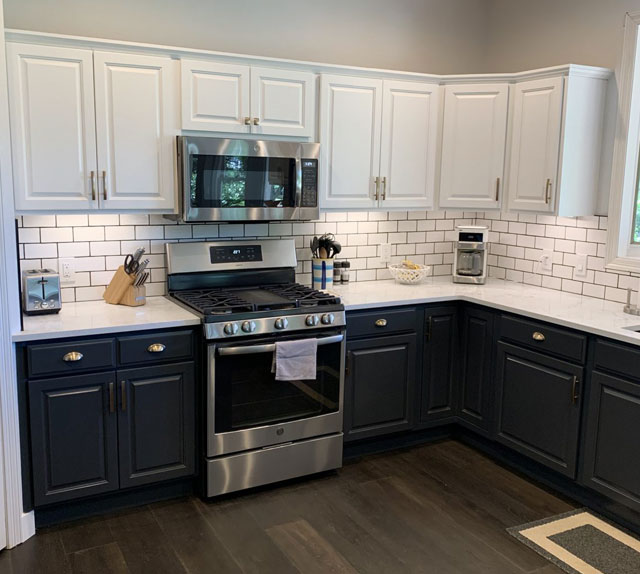 Loveland Cabinet Painting Services: A 5-Step Process
When you're looking for cabinet painting services, Summit Cabinet Coatings is a great choice. Our team is known for experience, authenticity, and quality; we love guiding our customers through the complexities of remodeling and refreshing rooms. From choosing colors, finishes, and styles – we hold ourselves accountable for only delivering excellent results that are rich, durable, and beautiful.
---
Step One: We remove your cabinet doors and drawer fronts.
That's right — we will actually come to your home or business and remove your existing doors and drawer fronts. We then take them to our facility to start the resurfacing process.
---
Step Two: We start the process of cleaning, sanding, and priming.
Our high-quality results come from the fact that we completely remove any and all existing finishes so we can start with a fresh, clean, flat surface. This allows our many coats of high-quality conversion varnish to lay down very evenly.
---
Step Three: We tape off your cabinet and drawer frames and start cleaning, sanding, and priming.
Just like your doors and drawer fronts, we will come to the house and (in a very unobtrusive way) start the process of getting the surface completely smooth and ready for a factory finish.
---
Step Four: We spray 3–4 coats of furniture-grade, high-quality acrylic.
Our spray method has been refined to create that extremely smooth surface that everyone is looking for. The many coats help create extremely rich colors and finishes, with durability as strong as oven-baked enamel.
---
Step Five: We re-install everything.
Once everything has dried and cured, we re-install all of your cabinet doors and drawer fronts. This is obviously the most exciting part of the process for our clients — we love seeing those smiling faces once the project is complete!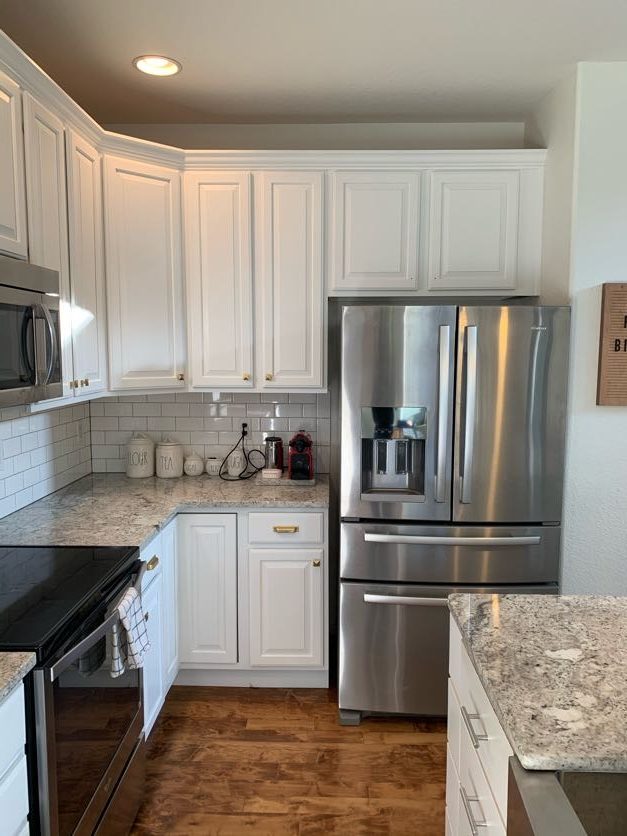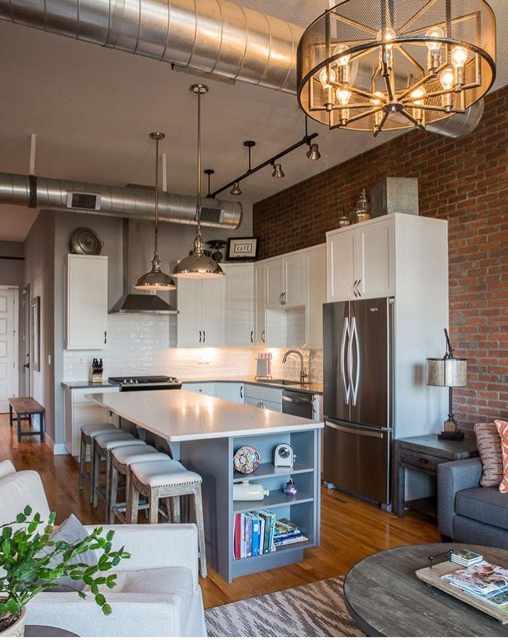 "My experience with Summit Cabinet Coatings has resulted in my best customer service experience to date during this pandemic. They have also delivered a superior product and demonstrated why they have such an excellent reputation. I am delighted with the fresh new look in my kitchen. Definitely a 5-star company! I wish them continued success."

-Kathleen A. Google Review