Loveland
Cabinet Painting Services
Our process for cabinet resurfacing leads to durable, long-lasting finishes.
---
Are you looking for a Loveland cabinet painting company? Look no further than Summit Cabinet Coatings. Our resurfacing service is a unique, refined process. We transform your existing doors, drawer fronts, and cabinet frames with beautiful, factory-grade paint finishes. Using what you already have, your kitchen will look brand new! Our refined process and oven-baked enamel finishes leaves your cabinets with smooth finishes and durable textures. Along with our cabinet resurfacing process, we offer hinge upgrades, rollouts, new drawer boxes, minimal carpentry, hardware installation, and a 5-year warranty. 
Fill out the form for a free estimate, or continue reading to learn more about our cabinet painting services. If you're interested in refacing instead, check out our refacing services.
Loveland Cabinet Painting:
Before & After
Here's an example of our resurfacing service that we can't help but be proud of. In this kitchen, we knew our cabinet resurfacing services were a perfect fit. This modern kitchen already had existing cabinet doors and drawer fronts in great condition. To start, we removed the doors and drawer fronts, brought them to our facility, and stripped them down. 
After completing several stages of preparation to create a perfectly flat surface, we applied multiple coats of commercial-grade paint with our high-end sprayers. We followed the paint with several clear coats for wear-and-tear protection. These color upgrades were a perfect match for the kitchen's new texture, flooring, and backsplash. A modern hardware upgrade added a finishing touch to this home improvement. 
Resurfacing can be a great way to bring all your new upgrades together to make a cohesive, welcoming, and functional kitchen space.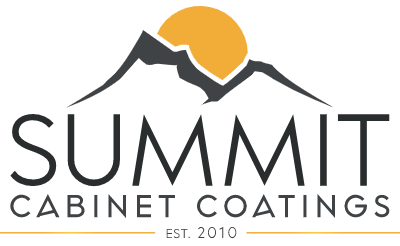 Before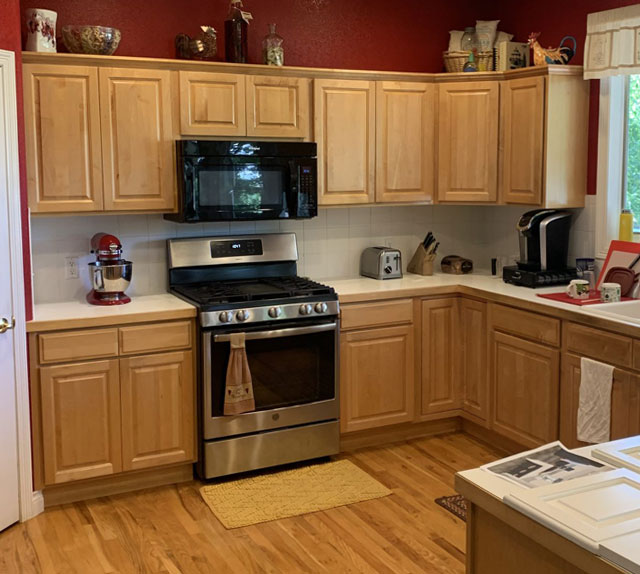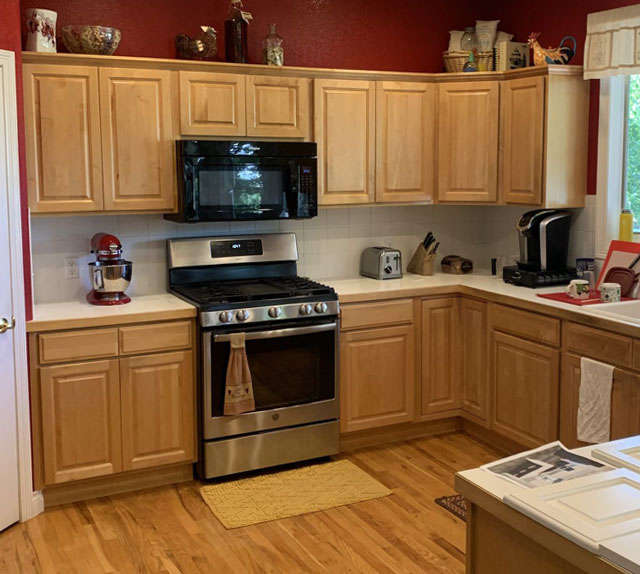 After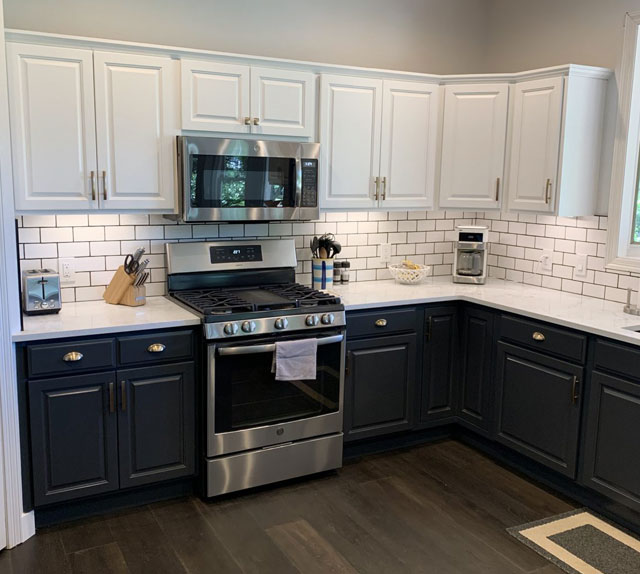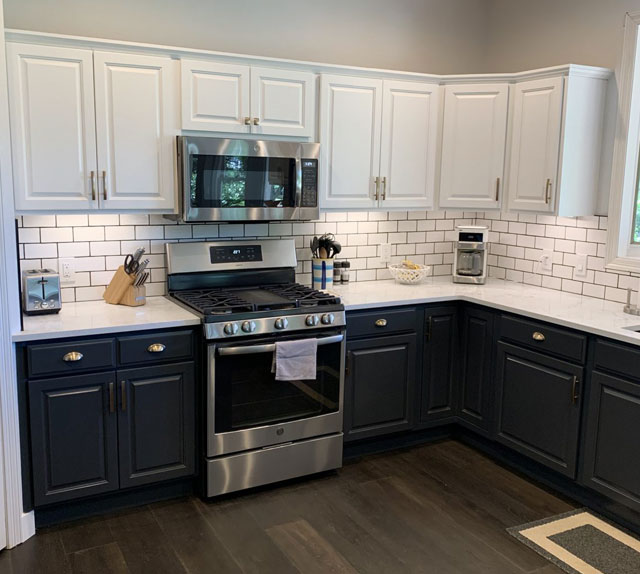 Loveland Cabinet Painting Services: A 5-Step Process
When you're looking for cabinet painting services, Summit Cabinet Coating is the best choice. People know our team for our experience, authenticity, and quality. Our customer service is top-notch as well. We love guiding our customers through the complexities of remodeling and refreshing rooms. From colors, finishes, and styles—we hold ourselves accountable to deliver rich, durable, and beautiful results. With our passion and your vision, your cabinets will be gorgeous and sure to last. 
Still wondering if our painting service is a good fit? Our-step by-step resurfacing process outlines exactly what to expect with Summit Cabinet Coating.
---
Step One: We remove your cabinet doors and drawer fronts.
That's right! We will come to your home or business and remove your existing doors and drawer fronts. The process is delicate, but efficient. We pride ourselves on the special attention to your cabinet doors and drawer fronts, handling them with care. We then take them to our facility to start the resurfacing process.
---
Step Two: We clean, sand, and prime your doors & drawers.
Cleaning, sanding, and priming are all essential steps in the resurfacing process. Our high-quality results are the result of completely removing any existing finishes or grease. This process ensures we have a fresh, clean, flat surface for the paint application. At this stage, we  apply many, even coats of high-quality conversion varnish. Ensuring your cabinets have a fresh start, your cabinets look brand new when we're finished.
---
Step Three: We tape off your cabinet frames and start cleaning, sanding, and priming.
While your cabinet doors and drawer fronts get a fresh start at our facility, your frames get an upgrade too. At your home or business—and doing our best to NOT disrupt your routine—we prepare the surface of your cabinet frames for a factory finish. We apply the same techniques as the fronts to the frames. This process ensures your upgraded doors and drawer fronts fit seamlessly in place when we're finished.
---
Step Four: We spray 3–4 coats of furniture-grade, high-quality acrylic.
We refined our spray method to create that smooth, factory finish that everyone wants. While looks are important, we know that they aren't everything. Not only do the many coats help create rich colors and finishes, they also add durability—as strong as oven-baked enamel! Our acrylic makes certain that your upgraded, beautiful cabinets stay that way for a long time.
---
Step Five: We re-install everything.
Once everything is dry, cured, and we're happy with the results, we re-install your cabinet doors and drawer fronts. This is obviously the most exciting part of the process for us and our clients. We love seeing those smiling faces once the project is complete!
Home improvements can be a tedious process, and we're here to help. If we seem like a good fit but you're not sure if resurfacing is the way you want to go, check out our refacing service! If you're still not sure which process is the best solution for you, that is totally fine. Our experts are ready to talk you through your options in more detail and answer any questions you may have. We want to take away as much strain as possible. Once we have some information about your remodeling project—flooring, backsplashes, built-ins, and more—we'd love to come take a look at your space. That way, we can see what service is the right fit for you, and create a detailed and accurate quote.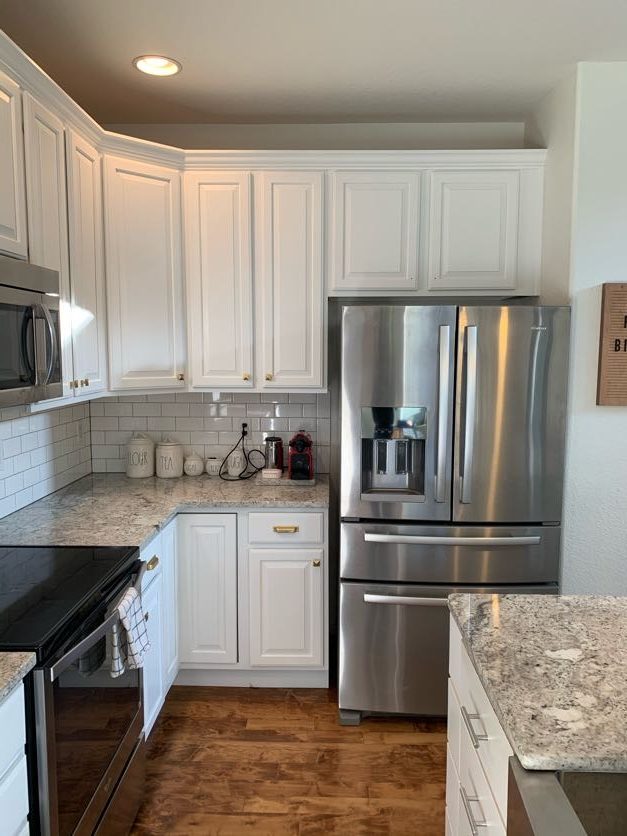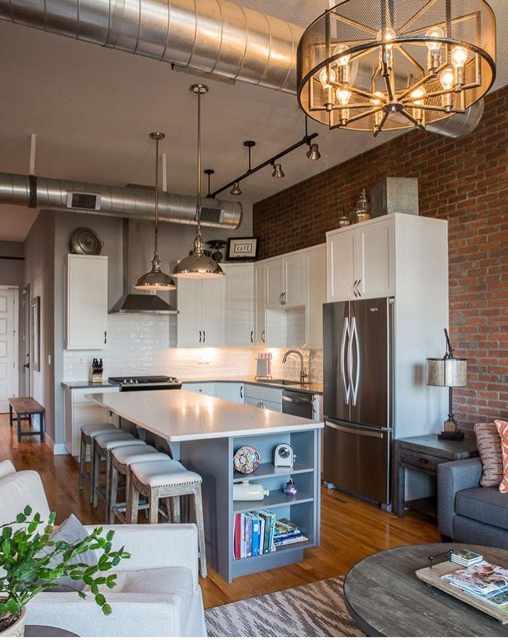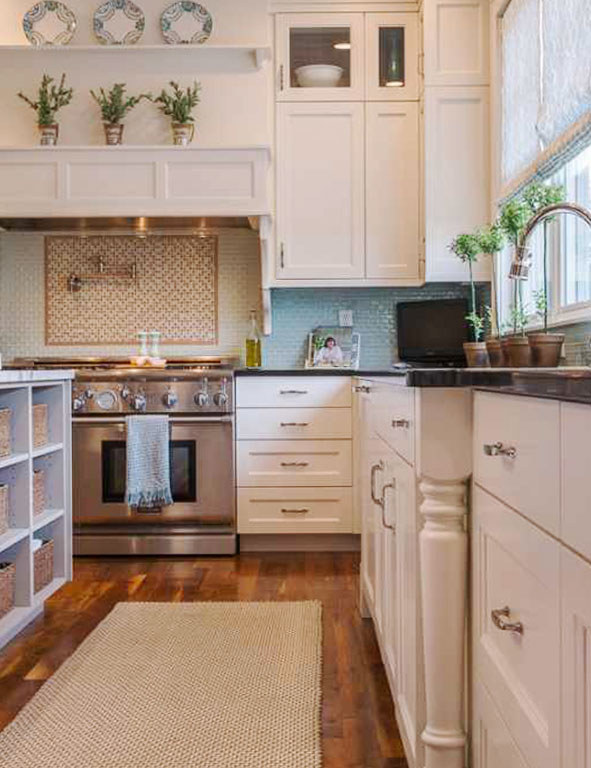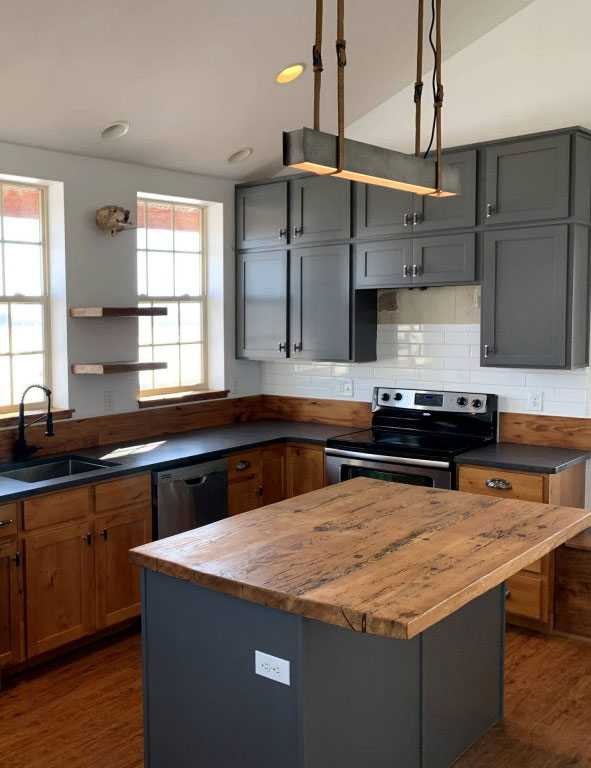 "My experience with Summit Cabinet Coatings has resulted in my best customer service experience to date during this pandemic. They have also delivered a superior product and demonstrated why they have such an excellent reputation. I am delighted with the fresh new look in my kitchen. Definitely a 5-star company! I wish them continued success."

-Kathleen A. Google Review