Maybe you just moved into an older home and don't particularly love the kitchen cabinets. You might have just noticed that the cabinets you have lived with for years could really use an update. There are lots of options available to spruce up your décor. Refacing cabinets rather than completely replacing them may be a money-saving option you would want to explore. Cabinet refacing cost is substantially lower than replacement because the base cabinet structure remains in place.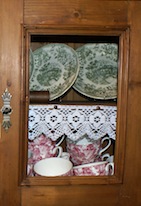 What is Refacing?
If you love the look of your cabinets but not the color, you might just want to repaint or refinish the cabinets. If you want a totally new style, refacing is a terrific option. Refacing cabinets gives you totally new drawer fronts, doors, along with matching surfaces applied to the face frames. Refacing reuses the existing cabinet frames and drawer boxes, so it is only an option when the cabinets and drawers are in good condition and there are no issues with the basic structure and layout of the kitchen. If there are structural problems with the floor causing the cabinets to sag or shift, repair of the floor and replacement of the cabinets might be necessary.
Cabinets can be refaced in a variety of materials, including laminates, high-end plastics, and real wood. Obviously, the cabinet refacing cost will vary depending on the type of material you choose, how many cabinets you have, and what style of doors and replacement hardware you select. You can expect to spend several thousand dollars—quite a bit more than resurfacing but far below what it would cost to replace all the cabinets.
How is it Done?
Doors and drawer fronts are removed first. The face frames are prepared to receive the new surface and the new surface is applied. Then the new drawer fronts and doors with the upgraded hardware are reinstalled. The process is completed pretty quickly with less mess than either refinishing or replacing.
Do Your Homework
Getting a cabinet refacing cost estimate from a qualified contractor is essential. He will be able to show you a variety of different options. You may want to include other work in your kitchen upgrade like a new sink, countertops, or flooring, and your contractor can help you select the best options for your budget. Whether you decide to add on or not, refacing cabinets will give you a great new look that you will enjoy for years to come.