Refinishing Your Bathroom Vanity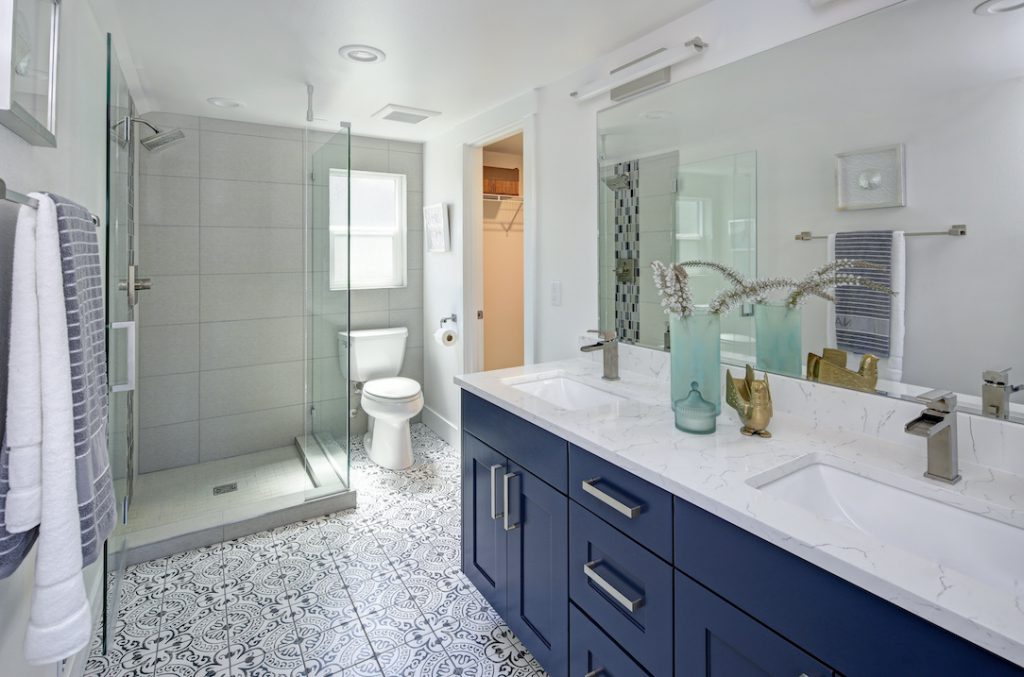 Not only do we help update your kitchen, but if your bathroom has wood cabinets, we can do those too! Using a similar process, the team here at Summit Cabinet Coatings can help freshen up the bathroom you use each and every day. The benefits of refinishing your bathroom vanity include allowing you to modernize, save money, and feel like you're in a brand new room.
The Importance of the Bathroom
Your bathroom is where you get ready to tackle your day and get ready for rest at night. When you have an outdated bathroom, you might not be making the most of your space. If you're looking to revitalize your bathroom, here are some things to keep in the back of your mind.
The shower and tub
Focus on organization and tying in your bathroom theme here. Get a fun shower curtain that incorporates the colors or theme you want your bathroom to have. If the rest of your bathroom is going to be minimalistic, try a pop of color on your curtain. Inside your shower, make sure you are organized. Having a tidy shower will help you feel more at ease when you're starting or ending your day. There are shower caddies and other hardware you can purchase to hang and sit in the shower to help keep things in set spaces. This will also help prevent shampoo or body wash from dripping all over the sides of the tub. 
 The floors
Having tile or hardwood in the bathroom is important. Say goodbye to the carpet! Carpet in bathrooms creates a breeding ground for mold and mildew. Every time you shower with carpet in the room you are risking mold growth according to Trade Winds Imports. Instead, consider incorporating hard floor surfaces and utilizing shower mats. This is another way to get more color into your bathroom. 
Storage
If you don't have enough storage in your bathroom, try incorporating cute carts or adding floating shelves to help hold things like hand towels, makeup, deodorants or cologne. To help save space on top of the cabinets near the sink, find a toothbrush holder that will also hold your toothpaste. Get creative with your storage to optimize your space. Check out these creative ideas from overstock.com.
The vanity
If you have cabinets in your bathroom, consider having them refinished. Rather than removing them completely, you can save time and money by only refinishing them. Refinishing the cabinets is a way to update and renew your space using what you already have in place. You can have your cabinets transformed using any color you can imagine, and you can also update the door and drawer knobs to spruce it up further. 
The Refinishing Process
One of the best parts of the refinishing process is that your bathroom will still remain usable. In total, the process typically takes less than a week. The process is done in two easy steps:
ON-SITE

: During the first phase, Summit Cabinet Coatings will spend two to three days in your bathroom coating your cabinet frames. They will begin by removing the existing cabinet doors and drawers from the cabinet frames and taping off the rest of your bathroom to keep everything else safe. Then, they will wash, hand-sand, prime, repair blemishes, caulk, and spray the finish on the exterior surfaces of your cabinet frames. 

OFF-SITE

: The second phase happens out of your home and at the Summit shop. It's at the shop that they will take the doors and drawer fronts through the same stages of preparation to make sure they get a strong and furniture-grade finish. To end, your bathroom doors and drawers will receive three coats of commercial-grade acrylic coatings, all applied in the Summit Cabinet Coatings contaminant-free spray booth. Once everything is completed, the doors and drawers will head back to your bathroom. The team will install the doors and drawers, along with any knobs and handles you want to finish the process.
If you are looking to totally change up your cabinet doors and drawers, Summit Cabinet Coatings does also offer new ones to help change up your door styles and/or eliminate grain entirely. This is the refacing process, and it is another way that you can find the bathroom you're looking for at a fraction of the cost.
Call for a Free Estimate
If you're ready to freshen up your bathroom vanity, call owners Jim and Jen Worden for a free estimate at (970)-282-9856. With over 13 years of experience together, they know how to give you the cabinetry you're looking for. Contact Summit Cabinet Coatings today and get on your way to a renewed bathroom.