You'll be amazed at the difference in your kitchen once the kitchen cabinet doors are refaced and new hardware is installed. At Summit Cabinet Coatings, you can find a wide variety of refacing options for you kitchen cabinet doors. So, what actually goes into this project? First of all, your cabinet doors must all be removed. You don't have to empty your cabinets, but you may want to take any fragile items out. The doors are taken off my unscrewing the hinges.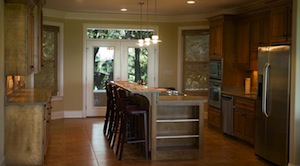 After the doors are removed from the cabinets, all the hardware will be removed from the doors. Depending on the age of your kitchen cabinets, you may want to update the hinges and handles. Even if you're not replacing them, you'll probably want to plan on polishing them to make them look like new! Now it's time to thoroughly clean the doors. Not only are you aiming to get dust and dirt, but you'll also need to remove any grease or other food residues.
If you're applying new laminate, you'll need to lightly sand the doors to ensure that the new laminate will stick securely. You should also lightly sand if you plan to paint or stain the doors. This will require sanding on both sides, since both sides will to be painted or stained.
If you are painting your doors, the next step in kitchen cabinet resurfacing is to apply a coat of primer. Once the primer is dried, you'll need to paint the first coat. One may be enough, but if your paint looks splotchy or uneven after it's dried, you'll probably want to apply a second coat.
For staining your kitchen cabinet doors, be sure that you thoroughly dust the surface once the door is sanded. Sawdust can ruin the smooth finish of the stain if it's not completely removed. Once the kitchen cabinet refacing is complete, the doors can be placed back on the cabinets and you'll be ready to continue redecorating! If you're installing new hardware, these items will be used to replace the cabinets and new handles will be attached.
What to do next? Simply enjoy your completed kitchen cabinet refacing project, and then take the next step in your redecorating! Refacing the cabinets is a great start to inspire you on to more updates throughout your kitchen.