8 Ways to Clean, Declutter, and Organize Your Kitchen Cabinets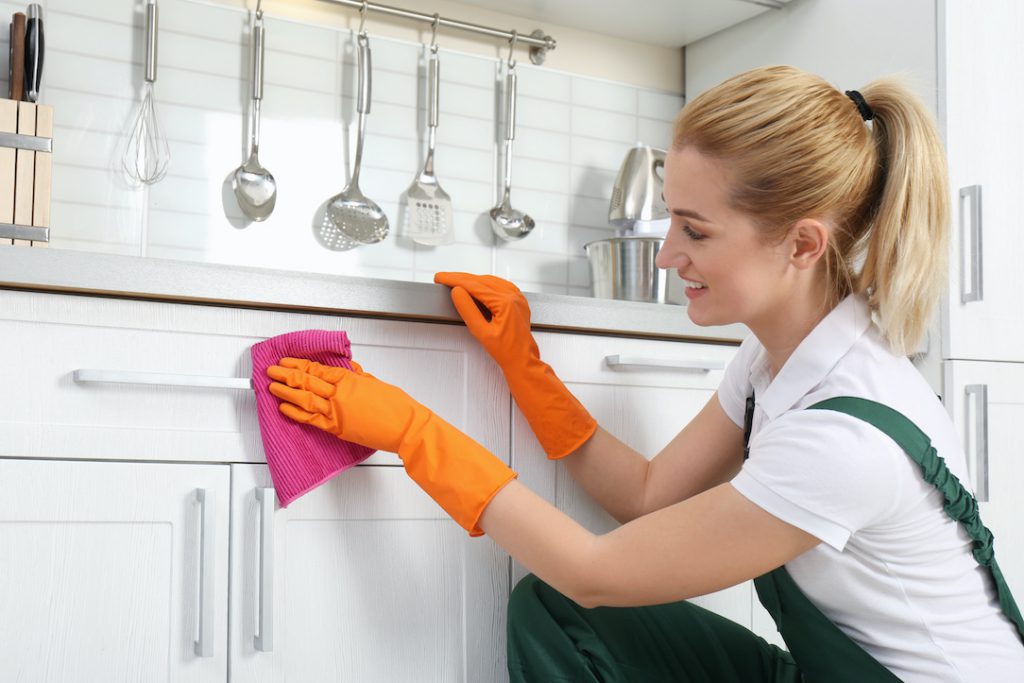 It doesn't take long for our kitchen cabinets to become a disorganized mess. Once you know the organizational method that works for you, it's easy to keep your kitchen clean and organized. Making sure that your cabinets stay clean and organized is an easy way to protect their longevity. If you're not sure what method works best for you, here are 8 ways to clean, declutter, and organize your kitchen cabinets.
 8 Ways to Clean, Declutter, and Organize Your Kitchen Cabinets
1.Use storage bins
For those cabinets that store food and panty items, try incorporating bins. Not only will this help your cabinets appear more neat and organized, but it will also look pretty! Bins are a great way to find exactly what you're wanting every time you open up the cabinet door. Reduce clutter by containing items that otherwise spread all over the shelves, like bags of snacks, towels, and more. 
2.Stack your shelves
Have you ever been annoyed by not being able to fit everything on the bottom of the shelf, but you still have space above your items to fill before the next shelf starts? Us too. Try stacking things on your shelves. You can find smaller plastic shelves that fit within your space to help you stack things like bowls, plates, and cups on top of one another without them all falling over. If you don't know where to look for these, here are some options from Bed Bath & Beyond. 
3.Lazy Susans
This invention is great for helping make the most of your space without having to fumble to look for what you need. Rather than having spices fall over or have cans hiding in the very back of your cabinet, incorporate a Lazy Susan. With this organizer, you put things on a round turntable that you can easily spin around to find what you're looking for. In addition, having everything on one easy organizer can help clear up clutter and look more pleasing to the eye. 
4.Wipe inside of cabinets down monthly
Life gets busy and we can forget just how gross our cabinets can get. We recommend cleaning out all your cabinets once a month and wiping them down to keep everything tidy and clean. This is also a great time to reorganize if things have gotten a little messy during day-to-day life. 
5.Don't forget the drawers
If you're like us, you more than likely have a junk drawer somewhere in the kitchen. You know, the drawer that accumulates unopened sauces from restaurants or plasticware that was never used. Instead of just throwing them in there, use drawer organizers. You can find these at your local Target or WalMart, and they're great for keeping things compartmentalized. You can use these organizers for every drawer in your kitchen. From the ones that hold silverware, to the ones that hold measuring spoons and more, these are a great addition to anyone's kitchen. 
6.Sliding storage drawers
If you have a tough time reaching pots, pans, or Tupperware that are all stacked on top of one another, look into sliding storage. Here is a great option from The Container Store. This will be more convenient for you as you go to get things out or put things up, and it also keeps your cabinets organized and clean. 
7.Clean the outside of cabinets
Just like cleaning the inside of your cabinets is important, it's also important to clean the outside on the doors and drawer fronts. While we're cooking, things can get splashed up onto them or dirty fingers can go to open them when we need something while cooking. This means overtime they can get filthy. Thoroughly wiping them down daily will help keep your kitchen clean and preserve the lifespan and quality of your cabinets. When food gets caked on for months, it can rip off the finishing when you finally go to clean it. Wiping them down daily helps avoid this problem.
8.Use airtight clear containers for food storage
In your pantry area, empty food from their original package and store dry goods in clear, airtight containers to really give your kitchen an organized, crisp clean feel. When you do this, be sure to clearly label your containers so you never forget what you put in them. This jar container method can help you store more in your space, and it looks better than the store-bought packaging too. 
Love Your Kitchen Cabinets
If you organize your kitchen cabinets and still aren't in love with them, call our team at Summit Cabinet Coatings. We offer affordable refinishing options to help give you the cabinets you desire, using the cabinets that are already in your kitchen! To learn more about the process click here, or call our team at: (970)-282-9856.