Add Value to Your Home by Refinishing Cabinets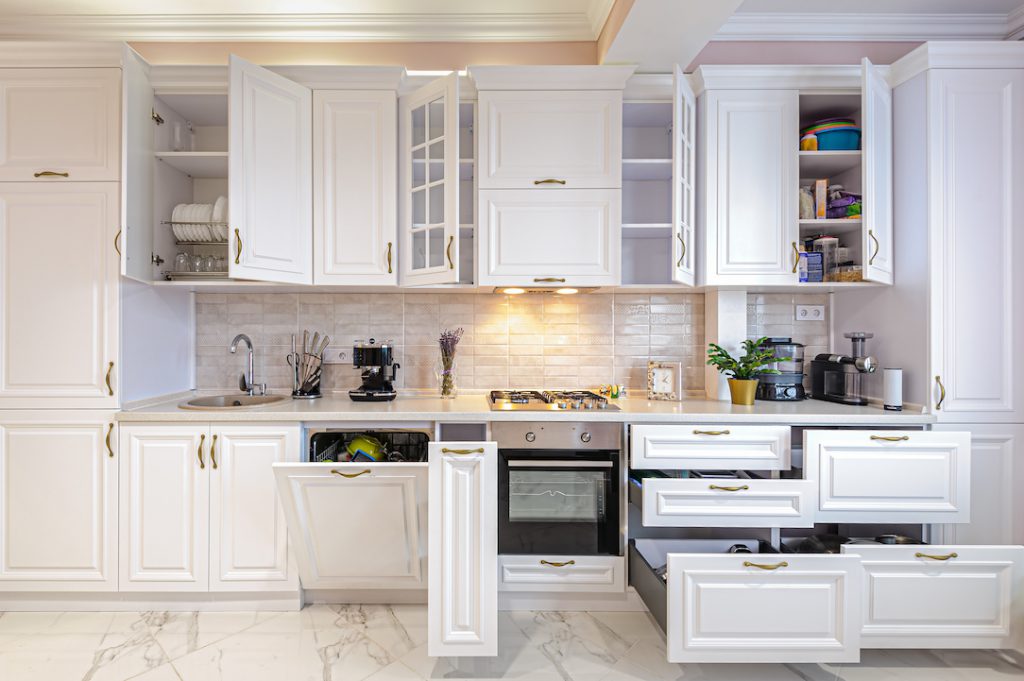 If you're thinking about selling your current home in the near future, think about refinishing your kitchen cabinets. Adding a new finish to your kitchen cabinets can help bring life back to your kitchen that could be looking a little worn from all the use over the years. Reviving your kitchen cabinets is just one step you could take to help add value to your home before selling. 
What is a Home's Value?
A home's value specifies it's worth. When you want to put your home on the market to sell, its value will tell potential buyers how much the home is worth. You know what you bought the property for, but it changes over time. According to US News, factors that go into determining a home's value include: the market, the neighborhood, the number of bedrooms, and if your kitchen is updated. A reported value of your home is considered an estimate of what a buyer will be most likely to pay at the time the home is on the market. The longer the house is on the market, the longer the value can fluctuate. 
What Does Refinishing Cabinets Do For Your Home?
Refinishing cabinets allows you to update your kitchen with the framework already in place. You can take old, worn out cabinets and update them with a new finish to have a brighter and modern look.
Another benefit to refinishing your cabinets is the ability it has to give your kitchen the style you love. Even if you're about to sell, modernizing and styling the look of the kitchen to become a kitchen you love can help future homebuyers want to purchase. If you're not completely set on moving, refinishing your kitchen cabinets could even convince you to stay! If you don't believe us, this report showed that 90% of homeowners reported they wanted to be in their homes more after a kitchen update – and the top reason for renovation was to upgrade worn-out surfaces and finishes. 
Revitalization 
Refinishing your kitchen cabinets is your chance to bring new life to your kitchen again. Outdated cabinets are ugly and hard to ignore since they take up so much space in the kitchen. Renovating what you already have in your kitchen by refinishing will completely change the look of your kitchen, trust us! 
For example, if you're living with dark cherry cabinets they can be renovated into a bright white look. In a short amount of time, you can make it seem like you completely updated your entire kitchen just by refinishing your cabinets. This won't break the bank either, which is perfect if you're either wanting to sell or just stay put. 
Refinishing Cabinets 101
Summit Cabinet Coatings owners, Jim and Jen Worden, are the best cabinet renovating team in northern Colorado. Along with their professional team of skilled specialists, they have many years of experience in modernizing and refreshing your kitchen at a fraction of the cost. 
The process starts with the Summit Cabinet Coatings team spending two days in your kitchen. They will wash, hand-sand, repair blemishes, caulk, prime, and then coat the cabinet frames.
Then, the rest of the work will be done in their shop. This is where they will take the drawers and doors to go through the same preparation to get a furniture-grade finish. All of the pieces will get three coats of commercial-grade acrylic coatings, applied in a contaminant-free booth. 
After this process is completed, the team will reinstall the cabinet doors and drawers, along with any new handles and knobs needed. This completes the process.
Professional Cabinet Renovation
Summit Cabinet Coatings is family-owned and operated, serving the areas of northern Colorado. Specializing in refinishing cabinets, Summit Cabinet Coatings will get it done in a timely manner without sacrificing quality and value. Just take it from one of our previous customers: 
"Dollar for dollar this is absolutely the best investment we have made in our home. The high quality professional work and attention to detail will not disappoint anyone who takes pride in their home. Thanks Jim and Jen, we enjoyed working with you on this project." – Galen, Loveland CO 
When you work with Summit Cabinet Coatings you can rest assured knowing that you will be working with northern Colorado's premier cabinet renovating team. Call Jim and Jen today at (970)-282-9856 or contact them online. They will work with you directly and oversee every step of your refinishing process. Together, they offer over 13 years of experience in the construction industry and will make sure you're satisfied with how your cabinets turn out.