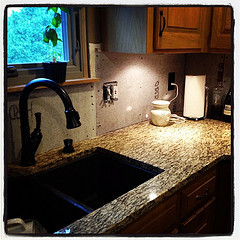 When it comes to making a statement in your kitchen, there is no better way to express your individual style and preferences than by the selections you make for your kitchen cabinets and countertops. When it comes to kitchen remodeling, these are two of the most important decisions and selections that you're going to make. So how do you go about matching your brand new kitchen cabinet doors with your brand new beautiful countertops? Well there are a number of things to keep in mind when making your selections.
Although color coordination is important when it comes to choosing the style of your kitchen cabinet doors and countertops, there other factors to consider as well which include your budget and your lifestyle.
Lifestyle
Consider you and your family's way of life before making a final decision when it comes to cabinets and countertops. If you have children you may want to consider base cabinets, drawers and tall floor cabinetry to allow cabinet access to your children, that way they don't have to crawl up on chairs to reach items and potentially hurt themselves. Wall cabinets will give you lots of storage space without taking up too much floor space. When it comes to countertops, consider the maintenance that your selection will require. Once again, if you have children you may want to consider more heavy duty and stain resistant counter materials.
Style
When it comes to kitchen remodeling selections it's a good idea to coordinate your kitchen with the rest of your home. Also make sure that the countertop plays off of the style of kitchen cabinet doors as well. If your home's overall style is contemporary, the combination of a sleek stainless steel countertop matched with dark espresso cabinets will create flow with the rest of the house and will play off each other very nicely.
You can also create a nice contrast between cabinets and countertops by playing up the disparity, for example white cabinets and black countertops or lime green cabinets with stainless steel countertops. Or you may choose to go with a little more of a coordinated approach. If you choose a countertop with flecks of brown, you may want to choose a similar color of brown for your kitchen cabinet doors.
Budget
Although it's not always fun, one of the most important aspects to consider before running wild in your local home improvement store is your budget. However, there are a number of cost effective kitchen remodeling solutions. You can choose pre-built or stock cabinets rather than custom made cabinetry. Or you can also try kitchen cabinet refinishing or refacing. This utilizes your already existing cabinetry, but allows you to refinish them or add an exterior veneer on the outside so that you can easily change up the look for a fraction of the price.