No Working Blues: Refinish Your Home Office Cabinets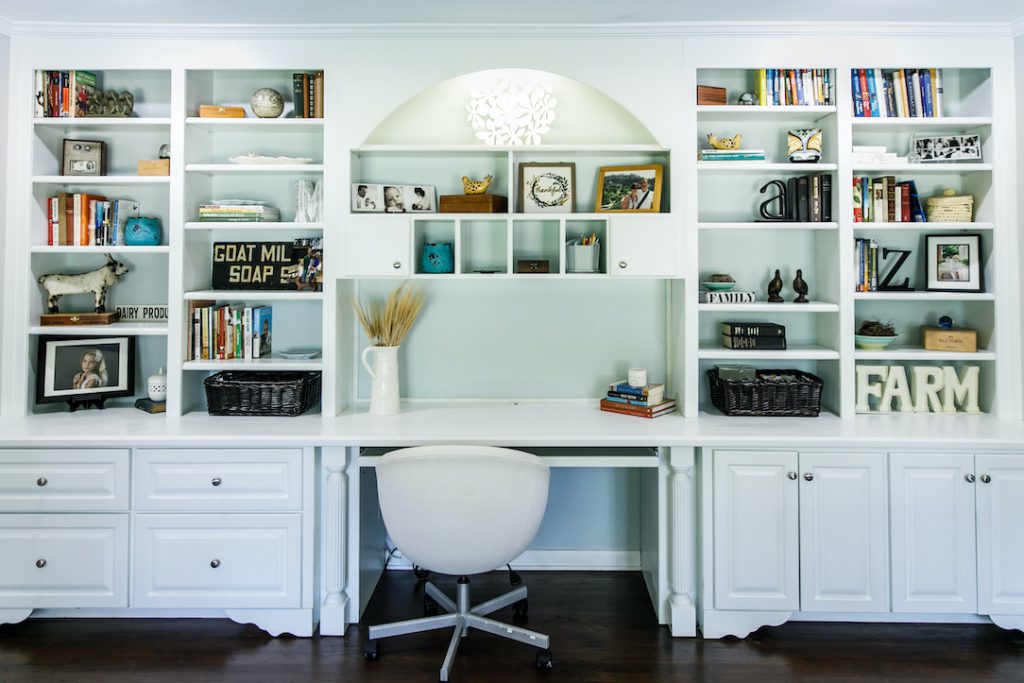 If you find that you dread going to work in your home office, try refinishing your office space cabinets to bring things back to life! Home offices have changed over the years and have proved that having a quality work environment increases productivity. If you need a little pep back in your work-from-home step, here's how refinishing your office cabinets could do just that. 
What You Should Have in Your Home Office
Your work-from-home space should be a space in your home that you can be productive in. So, what makes a good home office? Here are some recommendations from Small Business Trends to consider:
Make sure you have good lighting 
You don't want to work in a dark and dreary space that will be more likely to put you into nap mode. If possible, they recommend setting your desk up by a window so you can soak in more natural light. However, if you can't do that, don't worry. Instead, make sure you have enough light in the space to make it feel bright, not only so you can see your work better, but so you feel more productive too! 
A good desk and chair 
We know that sitting all day is good for us, but work has to get done. If you're looking to take your home office to the next level, get an adjustable desk. This will allow you to switch from working sitting down to standing up in a matter of seconds. Sitting down all day can cause back aches and pains, but it's also been linked to weight gain, mood problems, and more according to Healthline. Along with your desk, you should have a quality chair. Do your research to find out what chair would be best for your back and health. 
Decor and organization
An office isn't all about the decorations, but adding in things like plants, filing cabinets for storage, hanging calendars, and more can help elevate your home workspace. One tip we recommend is adding pictures of your family friends, hanging up motivational quotes, and other inspirational decorations that will help keep you going when the days get long. Don't just place a computer in a room and call it an office, have fun with it! 
Updating In-Office Cabinets
If your home office came already supplied with cabinets, but they're not what you like, our team here at Summit Cabinet Coatings can help you refinish them. Are your office cabinets dark wood that makes the space feel like a dungeon? Are they a vintage color that just doesn't work with your modern taste? We can help with our simple, budget-friendly, refinishing process.
How it Works
The process will take up to 5 days, but you can still use your space the entire time if needed. First, our team will come out to your home to tape off the room, coat the cabinet frames, and remove the doors and drawers. We will then wash, hand-sand, prime, repair cracks and blemishes, caulk, and spray the finish you choose onto the exterior surfaces of the frames. 
Next, we head back to our shop. Here, we will have your cabinet doors and drawers go through the same process as the exteriors. Each piece will then receive three coats of our durable, commercial-grade acrylic coatings.
Once that's complete, we head back to your home to reinstall the cabinet doors and drawer fronts. We will also update any hardware, like knobs and handles, to officially complete the process. 
Finishing Options
You have plenty of choices when it comes to choosing the finish you desire for your home office cabinets. First and most importantly, what's the aesthetic you're going for? If you're wanting a cottage-like feel, then a rustic finish might be for you. If you want an antique feel, we might recommend the rub through technique. Or, if you're just feeling a simple refresh, we can go with a solid finish. The choice is completely up to you! 
Your home office should be a space you feel productive and motivated in. If your current setup isn't doing that for you, a simple update to your cabinets could be all it takes to create a space you love. 
Get Your FREE Estimate Today
Call our team at Summit Cabinet Coatings today to get a free estimate on your cabinet project: (970)-282-9856. Whether it's your home office you want to update, your bathroom cabinets, or even your kitchen, we can help with it all. Refinishing your kitchen cabinets is an effective alternative to replacing them, saving you money and months of renovations in the long run. Contact us today to learn more about why this could be the best option for you and your home.