How to Brighten Your Kitchen For Spring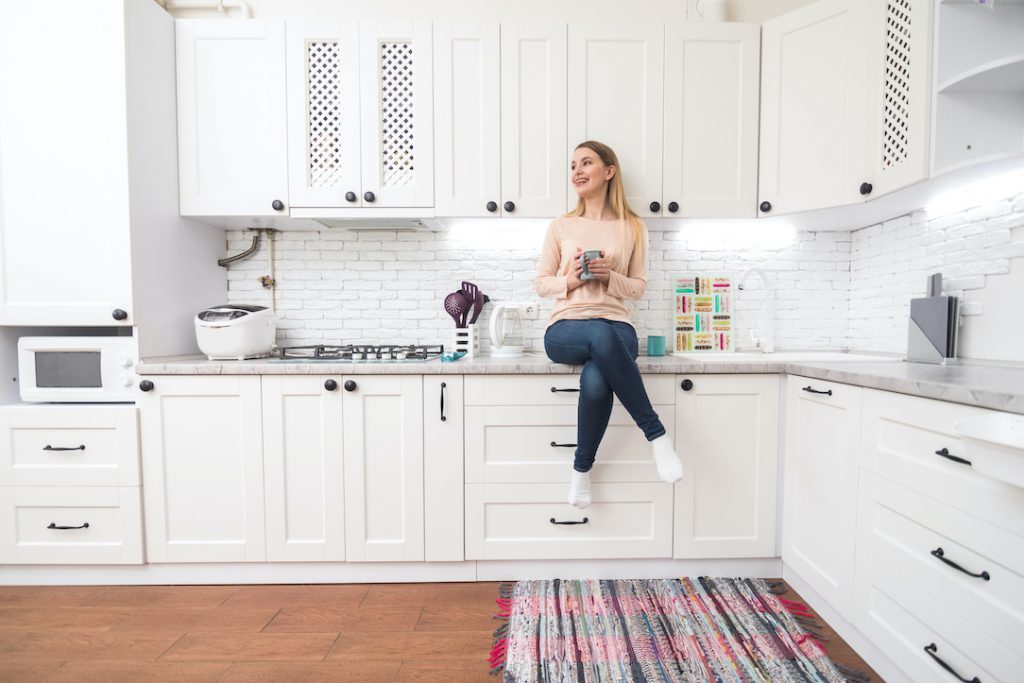 Spring has officially started. Most people have begun spring cleaning and getting their homes freshened up. If you're looking to put a spring touch on your kitchen, you've got several options to do just that. Use these tips to brighten things up and get your kitchen ready for spring and summer! 
How to Decorate Your Kitchen for Spring
 Add Flowers
Flowers are a spring staple and can instantly brighten up your space. In spring, there are many options available. Some flowers that are in season during the spring are:
Crocus: these low-growing flowers resemble jewels and add a beautiful touch of purple, white, yellow, and more to your home during the spring. 

Daffodil: this fan-favorite flower will instantly bring spring cheer to your kitchen with it's bloom and bright pop of color. Tip: try the gold! 

Tulip: this flower's bright colors scream "spring!" There are plenty of colors and shapes of tulips so you can find what works best with the color scheme you're working with.
Flowers offer many benefits in addition to decorating your home, like boosting your mood. If you need to put a little pep in your kitchen to get it ready for spring, it can also help improve how you're feeling. 
Have a Seasonal Food and Beverage Station
The next spring decor tip for your kitchen is to have a seasonal food and beverage station. Set up a little nook in your kitchen to serve fun, springtime food and drinks to your family and friends. You can try pastel-colored M&Ms, fruits and veggies like carrots or strawberries, and fun drinks like lemonade (or a bright-colored cocktail for the adults!) You can also put out garnishes for the drinks like lemon slices and mint. These fun colors coming from foods and drinks will help instantly brighten your kitchen for a short amount of time, so this is best if you're in a pinch! This is the most high-maintenance option, however, as you'll have to put the food and drinks away each day. 
Incorporate Bright Colors
Add colors where it's easy. You might not want to commit to painting a wall a bright color, but you can add springtime colors throughout your kitchen by using bright linens, kitchen mats, and more to transform your kitchen to being a springtime dream. These springtime colors can also translate easily into summer decor, so you'll get two seasons of use out of these items. 
Seasonal Posters 
You can find everything online. If you have a spare frame lying around, try getting online to find an inspirational quote or seasonal saying to print out. Having this frame sit on your kitchen counter is a simple, yet effective, way to decorate your kitchen for spring. If you are having a tough time finding one you like, try using Pinterest, or, make it a fun family activity and have your kids each design one! 
More Permanent Decor Options
If you want a brighter kitchen all year 'round, call Summit Cabinet Coatings to have your cabinets refinished. Refinishing kitchen cabinets is a cost-effective and simple process that will instantly bring your kitchen back to life. With a number of colors of finishes, you can instantly turn your dark wood cabinets into bright white. If you want to do a brighter springtime color, we can do that too! The process is quick and finished within a week, but you can use your kitchen the entire time. We will do the following at your home:
Tape off your kitchen, removing cabinet doors and drawers

Wash, hand-sand, prime, repair blemishes, caulk, and spray the finish on the exterior frames
After this, we then head back to the Summit Cabinet Coatings shop to:
Put the drawers and door fronts through the same process in a containment-free spray booth 

Once complete, we head back to your home to reinstall them along with any new knobs or handles you need 
Refinishing your kitchen cabinets allows you to update your kitchen without having to completely renovate, tear cabinets out, and bring new ones in. We'll use what you already have to freshen up your kitchen. 
Call Summit Cabinet Coatings
At Summit Cabinet Coatings, we are skilled in refinishing kitchen cabinets to give you the exact look you're wanting for your kitchen. If you aren't able to spruce up your kitchen for spring using simple decorations, give us a call. If you want a simple update or would rather transform your kitchen completely, we can help. Get a FREE estimate now by calling our office: (970)-282-9865.